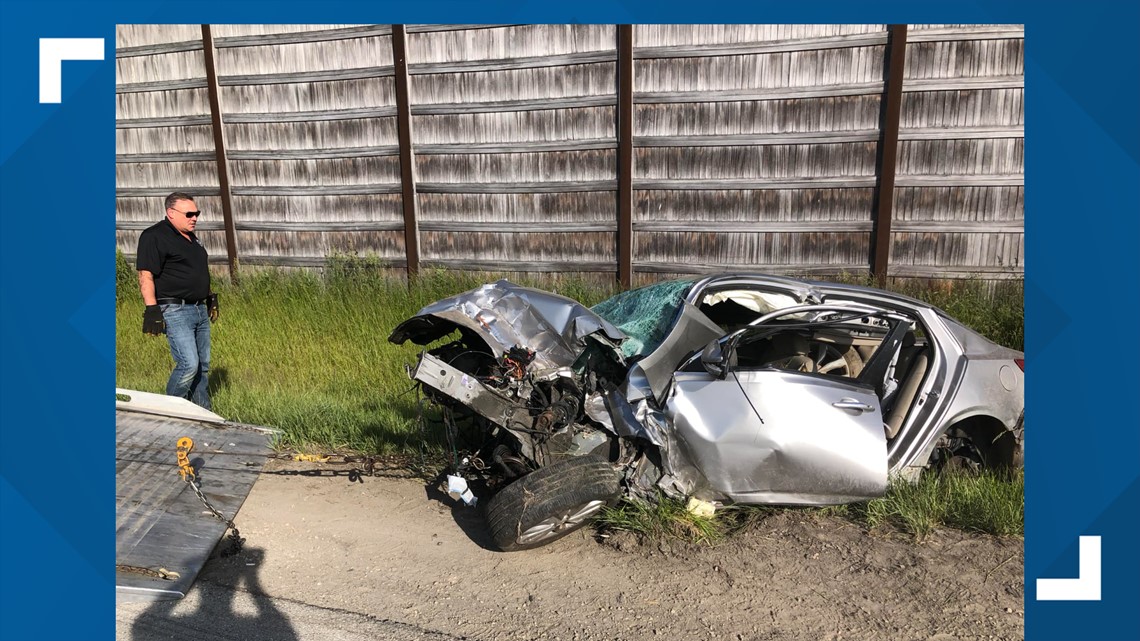 John Cicott said the family was lucky that the yard was empty because the accident happened early in the morning.
PELLYSBURG, Ohio — The noise of fast cars is nothing new for John Cicott and his family. The family lives in a house adjacent to Interstate 75 in Perrysburg. Sound barriers reduce noise but do not completely drown it out.
Around 7am on Sunday morning, the family was awakened by the sound of thunder.
OSHP said the car was traveling on Interstate 75 at nearly 100 mph when the driver lost control and eventually crashed through a sound barrier.
"When I finally looked out the window, I could see through the wall. Smoke was coming out, so I went out quickly to see what was going on," Cicotte said.
The impact was so devastating that the car's engine, several other vehicles and wall debris were blown into Cicotte's garden.
Part of his backyard was covered in oil and caught on fire, and he spent most of Sunday clearing debris.
"I've heard stories of semi-truck tires hitting the wall. I've lost a few steering wheels because of something hitting something. But I've never seen anything of this magnitude before. It's pretty crazy. What I always wanted to know what was going on," Cicott said. Located on I-75, you can actually see it now. "
Cicotte admits that his family was very upset after the accident and that the situation was about to get worse.
"I was really lucky to have my family in the house," he said. "This happened early enough that there was no one outside, because it could have happened during the day, obviously, and it could have been a lot more dire," Cicotte said. rice field.
The driver was taken to the hospital, according to the Ohio Highway Patrol. There are no updates on their condition.


https://www.wtol.com/article/news/local/car-crashes-into-sound-barrier-wall-i-75-sending-debris-into-familys-yard/512-cf5e39a4-35bb-48b7-86c0-2f5c1f5b33fc Families wake up after violent car crash on Interstate 75 in Perrysburg