Sports
Ironton wins at least OVC title share | Sports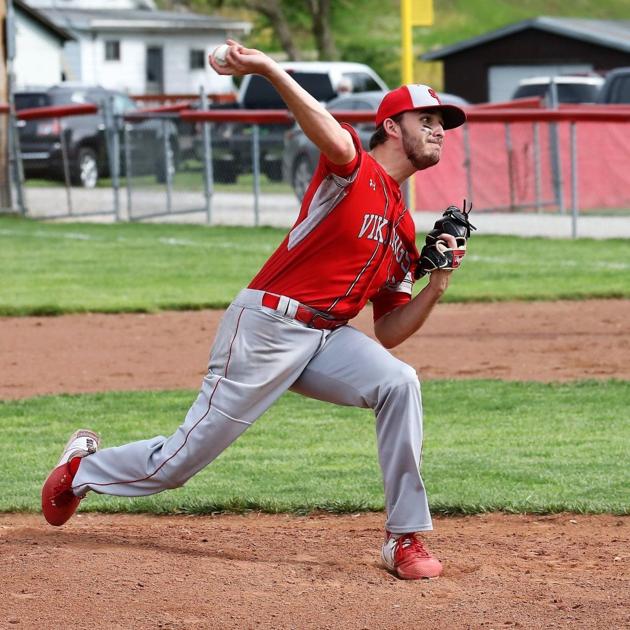 South Point, Ohio-Ironton defeated South Point 15-4 on Wednesday to win at least part of the Ohio Valley Conference High School Baseball Championship.
If the Gallia Academy beats Fairland, the Tigers can win the league completely. If the dragons win, they share the title.
Ironton (18-4 overall, 12-2 OVC) recorded 4 runs at a time and 7 runs at a time against the pointer. Connor Kleinman played 3 to 3 and Ryan Ashley 2 to 2 in the Tigers. John Wiley, Nate Bias and Tanner Moore each ran twice. Wily was the winning pitcher.
South Point 000 400–4 3 2
Wily, Taylor (3), Kerns (5) Bias; Dillon, Lunyon (3), Henry (4), Chapman.
RBIs: (I) Wily 2 RBIs, Bias 2 RBIs, Kleinman 3-3, Ashley 2-2, Moore 2B 2 RBIs.
SYMMES VALLEY 3, IRONTON ST. JOE 1: The day after losing 4-1 to the Ohio Aid Flyers, Viking (14-2 overall, Ohio Southern Conference 9-2) beat host Ironton St. Joe (11-5, 7-3). I broke it. A game with no earned run.
Caden Brammer threw a complete game to win.
Elijah Rowe scored when his brother Jackson doubled, giving the Flyers a 1-0 lead in the first inning. Symmes Valley won with three runs for the third time. Brammer and Levi Best scored 2-1 with an error. Braden Webb is back with a wild pitch.
SYMMES VALLEY 003 000 0–3 4 1
Ironton ST. JOE 100 000 0–1 4 1
Brammer and Straw; M. Marl Meister, J. Marmeister (7) and Stantebeck, M. Marmeister (7).
Greenup County wins two: Hunter Klevenger hits a three-run home run, leading the Musketeers (10-10) to the 18-0 route to Lions (3-12) in Lloyd, Kentucky.
Host Greenup County also defeated East Carter 7-6 using four 6-run runs. Brook Kitchen went 3-4 with 2 RBIs for the Musketeers. Cameron Carroll has won.
Colton Holman's two-run single in the bottom of Raceland 7, Russell 6: 7, won the Red Devil's (14-5) who visited Rams (15-4). Holman won by driving Jake Highton and Kirkpens. Andrew Floyd was the winning pitcher.
Portsmouth 11, PND 0: When the Trojan (10-10) celebrated the Senior Night with a shutout of Portsmouth Notre Dame (10-8), Michael Duncan was 2-3 with 3 RBIs. Drew Law scored 3 runs, 2 to 3. Tyler Duncan drove with two people, and Dawin Spence was the winner.
PORTSMOUTH WEST 17, Chesapeake 0: Second grade Sydney McDermott threw a perfect game when host Senator (15-7) struck the Panthers. McDermott hit 13.
Emma Homan Thayer scored 4 RBIs and 4 runs, 3 to 3. McDermott drove in 3 runs and Kate Rollins in 2 runs.
WHEELERSBURG 10, WAVERLY 0: Pirates hit five home runs in the Tigers' rout at Gene Bennett Park.
Macee Eaton was 3 to 4 and all the hits were Homer. Eaton smashed a pair of 3 run shots and 2 run blasts and drove at 7. Andi Jo Howard and Boo Sturgill have also returned. Howard was the winning pitcher. She hit 9 as Wheelersburg improved to 16-1 overall and 12-0 in SOC. Waverly fell to 10-6 and 9-4.
Raceland 7, Greenup County 5: Rams (16-6) overcame a 3-0 deficit and defeated a visiting musketeer (9-3). Makena Francis was 2 to 2 and Reagan West was 2 to 4. Chloe Collins returned home and drove in three runs.
PND SWEEPS GREEN: Portsmouth Notre Dame (16-0 overall, SOC 11-0) defeated the visiting Bobcat 1-0 and 21-0. Maddy Suter drove on the only run in the opener. Gwen Sparks hit a no-hitter for the second time as Isabel Cassidy and Kayler Pickel Shimmer each hit four hits. Sparks and Ava Hassel each hit three times.
Ironton wins at least OVC title share | Sports
Source link Ironton wins at least OVC title share | Sports