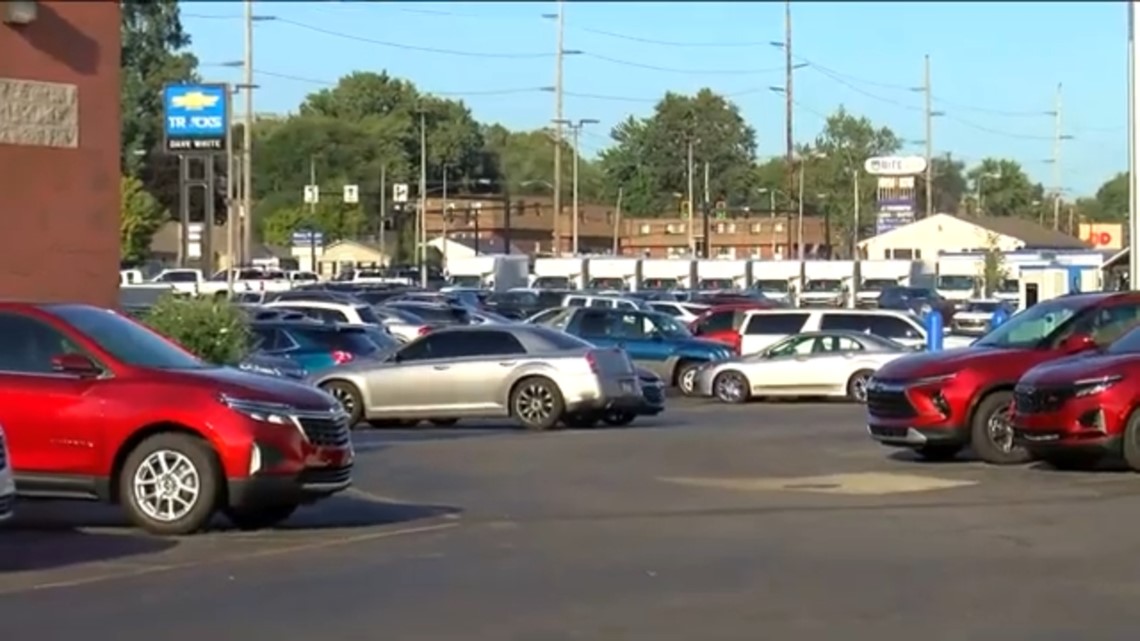 Dave White Chevrolet in Sylvania has been preparing for the possible UAW strike since the beginning of August.
SYLVANIA, Ohio — It's been a bumpy road for car dealers the last few years. Inventory, interest rates and now, an uncertain rollout to the new model year have caused issues.
Dave White Chevrolet in Sylvania told WTOL 11 it has been preparing for the potential of a UAW strike since the beginning of August.
"Northwest Ohio is very tied to the automobile business," said Joe Mehling, the Dave White Chevrolet executive manager. "What first will happen is those folks that are out of work and on the picket line, they're going to quit buying cars. That will have an impact on our new and used car sales because they're out on the picket line. They're not earning a paycheck. That's going to have a definite impact on the entire economy in town and definitely here for us."
Mehling says the dealership has been storing up on used cars and stocking up on parts in anticipation of the strike and the inventory for new cars getting light.
"We've already been in a situation in the course of the last year and and a half where we've had very small inventories, but we've been able to reload on a monthly basis to a certain extent and if the plants are shut down, we can't do that so therefore we'll just run out like we did a year ago right now," he said. "That means supply gets very short and demand gets very high. It's not a comfortable feeling for anybody."
➡️ Get a fresh start to your morning and wrap up your day with the latest news and your WTOL 11 Weather forecast delivered right to your inbox!
WTOL 11's Your Morning Blast and Your Evening Blast deliver stories from northwest Ohio, southeast Michigan and beyond to keep you informed.
https://www.wtol.com/article/news/local/car-dealerships-preparation-uaw-strike/512-8ecf2779-5efc-423b-88f4-300dfafa8886 Local car dealers have been preparing for a potential UAW strike