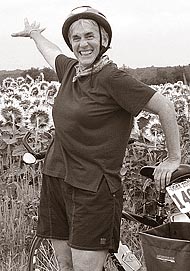 Moya Dale Shea died at home with her son Jason on September 7, 2021. She is just 76 years old. For the past 18 years, Moya has lived deeply and completely, managing the complications of multiple myeloma and dialysis.
She grew up in Glendale, California, and after graduating from the University of California, Santa Barbara, joined the Peace Corps and served in Tunisia. When she returned to the United States, she moved to Berkeley, where she first worked as a librarian and then at the United States Postal Service. When her son Jason Shea was born in 1971, she became a devoted mother.
In the winter of 1973, Moya and Jason packed up their luggage and moved to Yellow Springs. She quickly decided that this was the place she wanted to live and raise Jason. Moya worked as a mail carrier until she retired in 2003. She loved the village and made it her home for the rest of her life.
She always invited us to imagine the best possible world. As an active and involved member of the Yellow Springs community, she was one of the first people in the village to set up a small library in front of her home. She participated in a civic activity project, counting bees, planting pollen-bred plants, and signing up for a new service to collect food waste for garden composting. She has led several support groups for cancer survivors and critically ill patients, including the Charlie Brown Support Group at the YS Senior Center, and a Qigong group at home for people dealing with cancer and other illnesses. Hosted.
Moya was a student who learned the meaning of being human. Defenders of social and racial justice claimed that she was only part of who she was and that there was only one race, race. She saw the challenge, responded with curiosity and creativity, gathered information, and took action.
During a medical visit to Little Rock, Arkansas, she noticed a serious error in the text of the sculpture honoring Little Rock Nine. It took two years of calm, tenacious and devoted effort to revise the text and convince the Arkansas General Assembly to truly honor Nine. She personally contacted the living members of Little Rock Nine to inform them of the changes. She didn't give up. She didn't get angry. She just did her best to achieve it. Recently, her concerns about racial justice have led her to participate in a courageous conversation project sponsored by Yellow Springs Havera and the 365 Project. She made a significant contribution to the "Color of Me" project, which will start in October. Her positive impact on the community is alive.
Moya never missed the opportunity to show us her playful side. Due to her inclusive nature, she promoted a "new game" and emphasized competition and cooperation over the inclusiveness of all. She planned everything to move, laugh, and have fun with, from biking to her favorite beautiful sunflower fields, bocce tournaments, Frisbee golf, and Earth Day celebrations. When I found a colorful snow sculpture in the garden, I knew that Moya had visited. If she sees your child to give you the break you need, you may go home to find a stupid string to play with chocolate on your pillow. She was always trying new things. Stand-up paddleboards, slacklining, letterboxing, to name just a few.
Moya boarded 10 Great Ohio Bike Adventures (GOBA) and stopped by for dialysis along the way. She refused to control her life with her illness. With curiosity and ingenuity, Moya constantly changed not only his thoughts but also his environment. A fire stick that slipped down to start the morning, a parachute hanging from the ceiling, a sunken bed, and her ever-changing five-year plan scattered across the walls.
Moya's power came from her immeasurable honesty and her inspiring and exciting love for life. Being in front of Moya meant knowing that you were cherished and that she saw the best of you. Her smile was a blessing she generously shared, and her hug was warm and encouraging. She thanked Christina Brewer and Matthew Tarbert (McQueen) for their blessed role in life. The greatest joy in her life was arguably her son Jason.
In addition to her beloved son Jason and his dear partner Mindy Akins, Moya is by her brother Brian Shay and his wives Daedre and Kevin Shay and his wife Faye. It will be remembered. And her niece, Talia Shea, and her husband, Scott Sweetman. Special friends of Moya's chosen family include Johnny Brewer and her daughter Christina. Pat Dewees; Vicky Hennessy; Wendy Levic; Marianne McQueen; Liz Marsky; Jane Bisbal; and others are too much to mention. I will never forget her smile and the positive impact she has had on our lives.
Due to COVID restrictions, a private memorial service is planned. More details on additional activities to celebrate Moya's life will be coming soon.
If you want to donate in the name of Moya, you can donate to 365 projects. To make a donation, visit the website the365projectys.org[寄付]You can do this with the click of a button. Alternatively, mail the check to 365 Project, PO Box 165, Yellow Springs, Ohio, 45387, and write "in honor of Moyashia" on the note line of the check.
Moya Dercia
Source link Moya Dercia