Entertainment
Steve Burns of "Blue's Clues" Shares Message 25 Years Later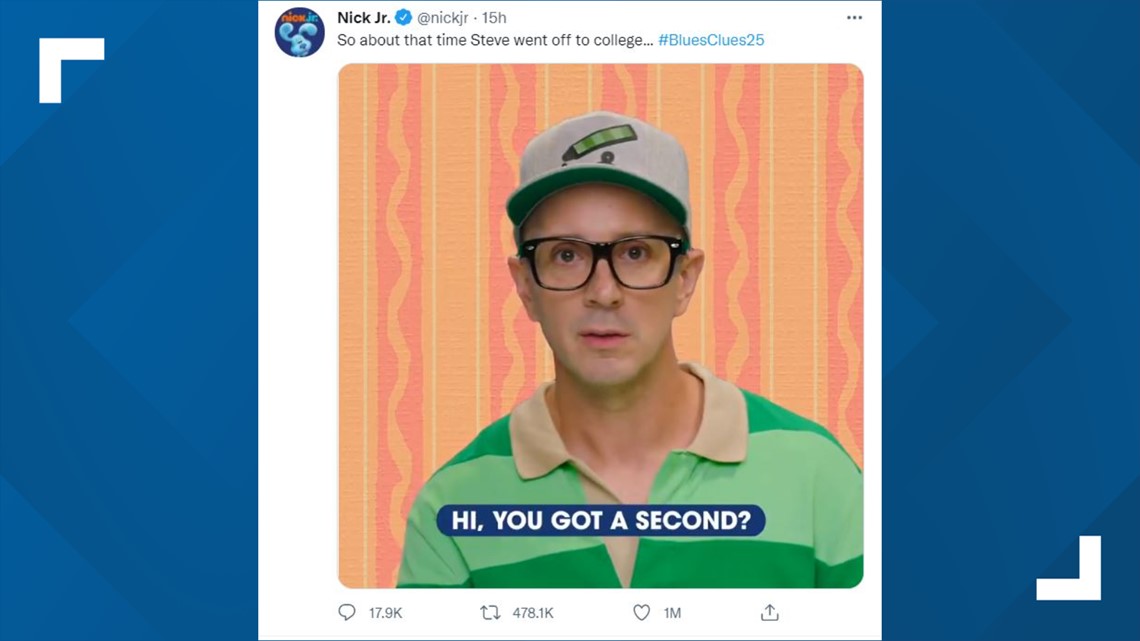 "I never forgot about you … ever," said Steve Burns, a former "Blue's Clues" host, in a nostalgic message celebrating the 25th anniversary of the children's show. I did.
Washington — The first host of Nickelodeon's "Blue's Clues" is back with a special message to commemorate the 25th anniversary of the hit children's show.
In a 2-minute video posted on Nick Jr.'s Twitter page On Tuesday, former host Steve, played by Steve Burns, opened about his departure from the show in 2002 to allow his character to go to college.
"So, at that time Steve went to college …" Read the video caption.
Steve, 47, begins his message by finding clues with Blue, chatting with Mr. Salt and Mrs. Pepper, and remembering good times when he receives an email.
He talked about how his departure was "sudden" and asked his fans, "Can I talk about it?"
"I got up a bit and went to college, and by the way, it was really challenging, but great," he said. "I have to use my heart to take steps step by step, and now I'm doing much of what I literally want to do."
Burns takes some time to recognize all the achievements of adult fans, such as finding a job or having a family.
"Some of them were a little hard, right?" Burns said. "I know what you know, and I really wanted to tell you that I couldn't do it all without your help."
Byrne's message ends with how proud he is of all his growing fans and helping him do the same.
Nickelodeon is planning several other activities to commemorate the premiere of the original "Blue's Clues," which aired six seasons of the original on September 8, 1996.
The production of "Blue's Clues & You!" Has also started. A movie following Josh, played by Josh Delacruz and Blue, who travels to New York City to audition for a Broadway musical.
A special "It's YOUR birthday" episode will also air on September 17th, allowing young viewers to celebrate their birthday.
"Blue's Clues is one of the most successful and acclaimed preschool television shows in history, and we are very proud that Nickelodeon has been home to it for the past 25 years." Ramsey Knight said, President of Nickelodeon Animation. "The creativity, interactivity and inclusiveness of the series have endured the challenges of time. We continue to empower, challenge and build the self-esteem of a new generation of preschoolers."
Some of the original episodes of "Blue's Clues" can be seen on the Paramount + streaming service, and more episodes will be available for the anniversary.
The Associated Press contributed to this report.


Steve Burns of "Blue's Clues" Shares Message 25 Years Later
Source link Steve Burns of "Blue's Clues" Shares Message 25 Years Later