Ohio
When will the Race for the Cure start? Where can I get a shirt?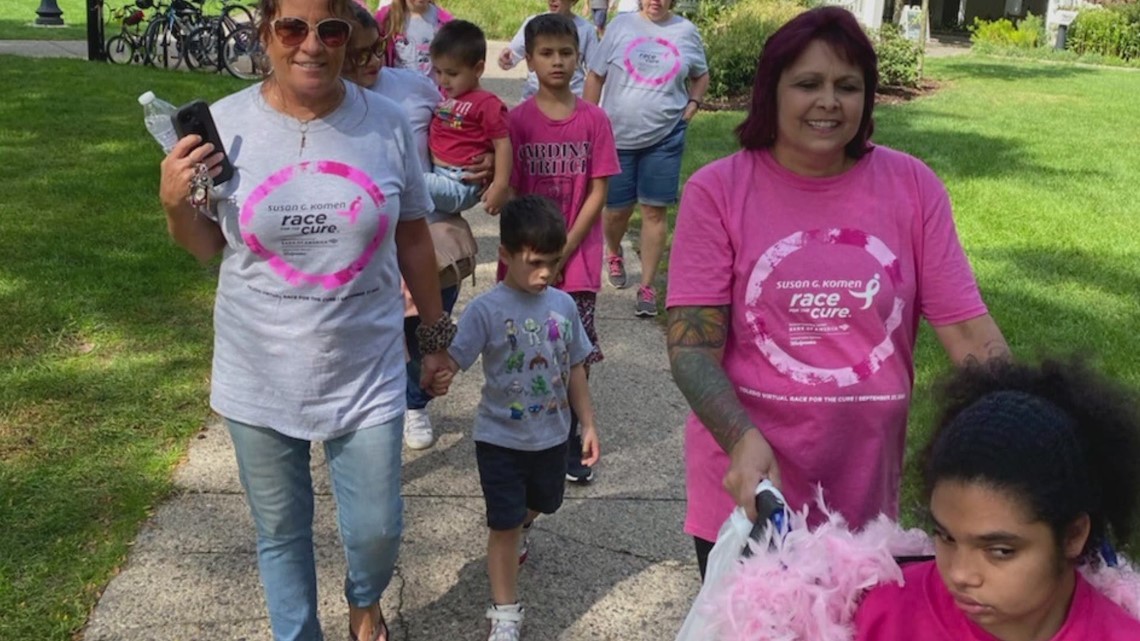 Need to know where to pick up your shirt? When do you participate in the race? Where do you park We are covering you.
Toledo, Ohio — The day of the race is about to begin. I'm very excited to turn Susan G. Comen Race for the Cure's Findley and Toledo into pink.
Toledo meets in person on Sunday.
Share your photos with hashtags wherever you are #RaceForTheCure And you may see your photos online or broadcast this weekend.
Here's all the guides you need to know to prepare for this year's great race!
How do I get a T-shirt?
The Komen Northwest Ohio Race Team has partnered with Dave's Running to distribute race packets, including T-shirts.
Survivors and those enrolled with metastatic breast cancer will receive a pink or berry-colored T-shirt.
You will receive your shirt and packet at:
T-shirt pickups will continue on Thursday, September 23rd and Friday, September 24th, from 2pm to 6pm at Dave's Running on Tiffin Avenue in Findlay.
• Thursday, September 23, 2:00 pm to 6:00 pm
• Friday, September 24th, 2:00 pm to 6:00 pm
Where can I park in Toledo Race for the Cure?
What is the event schedule?
6 am – Vehicles must be in the Team Tailgate area (at the corner of Summit Street and Washington Street). This is an ideal space for team members to park and gather. This is a first-come-first-served situation.
6 am – Street closures begin downtown.
7:00 am to 11:00 am – Hope Village opens in Hensville Park. It is intended for all breast cancer survivors, those with metastatic breast cancer, and one guest per person. Enjoy light meals, gifts and luxury.
7:00 am to 9:30 am -Kids zone is in progress. The event is located at Fifth Third Field's 2nd Base Gate and is open to registered children under the age of 12 (adults required). Activities and light meals are provided.
7:00 am to 9:00 am – Sponsor Expotent is open.
From 7:30 am to 9:00 am – Race day registration will take place at Fifth Third Field.
7:45 am – Kids dash will be held. Registered children will be able to run the base at Fifth Third Field at 7:45 am. Enter in sections 115-116.
8:15 am – Survivor photos and parades in Hensville
9 o'clock in the morning – Opening Ceremony and Aerobic Warm Up
9:30 am – 5K running and walking, followed by family-friendly walking.
Summit Street between Monroe Street and Washington Street is lined with timed 5K runners.
5K pedestrians line up on Summit Street behind timed runners
Family Fun Walkers Must Line Up on Monroe Street
10:30 am – Award presentation
Where are the start and finish lines? Also, are there water stops and toilets?
The starting line is on Summit Street in front of Owens Corning / Hensville. The race ends on Washington Street as the runner exits Owens Corning Bridge.
Waterstops are located at the 1-mile mark on Huron Street between Jefferson Street and Monroe Street and the 2-mile mark on Newton Street and Broadway Street.
Port-o-potties are available at 1 and 2 miles along the race route and throughout the Race for the Cure area.
What is the COVID-19 protocol?
As the CDC recommends for everyone, vaccination is the best preventive measure against serious illness caused by COVID-19 and is not required, but Race for the Cure encourages participants to vaccinate. .. All guests attending face-to-face walking events are advised to consider wearing a face mask, with or without vaccination.
How much is the registration fee?
The registration fee is $ 35 for adults and $ 20 for participants under the age of 18. Registration fees are not refundable, transferable or tax deductible. Registration fees provide access to events and help offset costs such as security, permits, tents, and other operational items. This is why donations are not tax deductible.
How can I register?
You can register online by clicking the button below. Watch this short video to demonstrate the online registration process.
Can pets and strollers participate in the event?
Please refrain from bringing pets to the event. However, strollers are available. If you're riding in a stroller, jogging or wagon, put yourself behind a 5K walker or on a family-friendly walk.
What if it rains?
The event can be rainy or sunny. Please dress accordingly. Download the First Alert Weather app to get the latest weather information.
I want to participate virtually. what can I do?
Have a coffee and attend WTOL 11 on Sundays from 8:30 am to 10 am to see the full story of downtown Toledo's healing race. Then take a walk in the neighborhood or local park. Post your photos on the Komen Toledo and Findlay Race for the Cure Facebook group pages.Use hashtags #RaceForTheCure You can view your photos on the air and online on WTOL11.
I can't Race for the Cure, but I would like to donate. How do you do it?
You can donate at Komen.org/toledorace or withdraw your donation at Fifth Third Field Home Plate Gate on race day.
I have a question that I couldn't answer. what do I do?
Before the race day, you can send an email nwohioraceinfo@komen.org Alternatively, please call 567-200-2327. On race day, guest service volunteers will be happy to answer your questions. The station is located within the home plate gates of Fifth Third Field and Hensville Park. If you are looking for breast health support, please contact Komen Helpline 1-877 GOKOMEN or email us. nwohioraceinfo@komen.org..
When will the Race for the Cure start? Where can I get a shirt?
Source link When will the Race for the Cure start? Where can I get a shirt?