Ohio
13 shot dead, 3 dead as violent weekend continues in Cleveland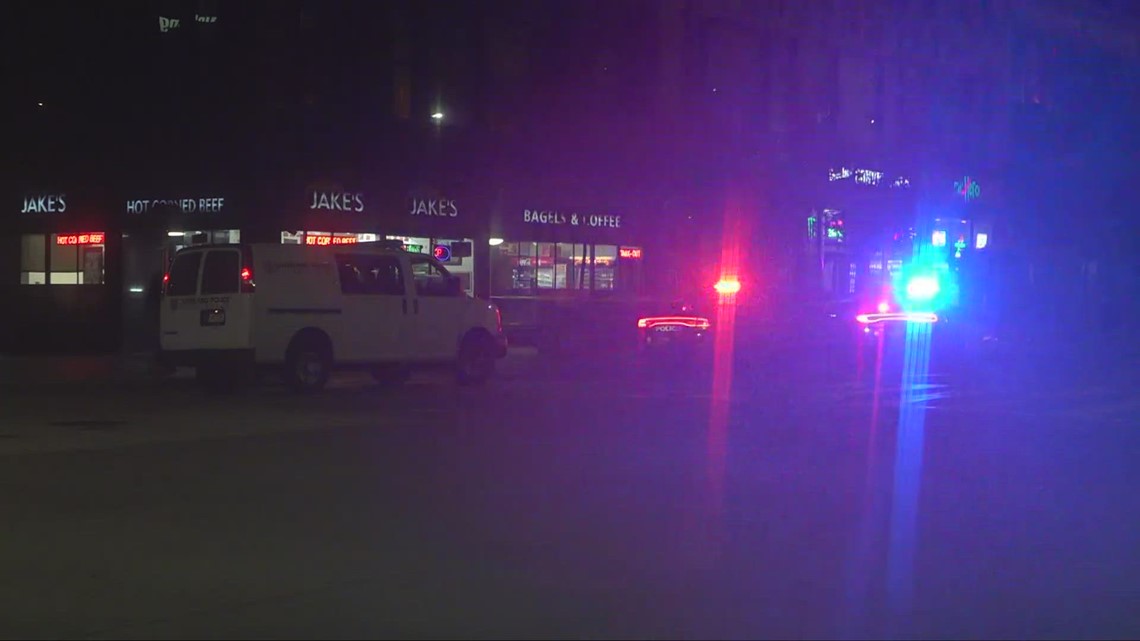 Police said there were two three shootings, including one at an East 55 gas station and another involving three teens.
CLEVELAND — Multiple investigations are underway in Cleveland following a particularly violent weekend in which 13 people were shot in the city between Friday night and Sunday, killing three of them.
Officials said the nine shootings each occurred within 48 hours. Of the three murders, two were three shootings, including one in which a 17-year-old boy lost his life.
The first killing occurred around 2:30 a.m. Saturday at a Rapid Stop gas station on East 55th Street, when police initially found a "large and unruly crowd" surrounding the victims. Authorities later learned that one of the victims had gotten into an altercation with an unknown woman, and one of the suspects intervened and shot the victim in the head. The same suspect then started shooting at others, and a few others also opened fire.
A 47-year-old man was shot in the chest while pumping gasoline and was taken to University Hospital Cleveland Medical Center, while a 21-year-old man also sustained a back injury. The first victim, identified as 23-year-old Davionte Carlos Winnick, was pronounced dead at the scene.
Police identified a 27-year-old man as a "person of interest" but said they were continuing to search for other shooters. No arrests have been made at this time.
The second triple shooting occurred around 12:40 am on Sunday when 17-year-old Tyrese Martin Croom was found murdered in a car near St Clair Avenue and London Road. It's been found. Two 16-year-old boys were also shot, one in the arm and the other in the face, and taken by ambulance to California State University.
Witnesses said the three victims were in a Kia Forte when the dark SUV stopped and someone in the vehicle began shooting at it. Again, no arrests have been made.
The third and final murder occurred at yet another gas station, this time at the Marathon on East 116th Street. Just before 3:45 p.m., police said the 24-year-old victim was smoking gas when he was shot several times by a man wearing a ski mask and fled. The victim, identified as Marquis Craig of Cleveland, died of his injuries at UH. The suspect is still on the run.
The other six shooting incidents occurred as follows.
Friday night: A 26-year-old man was shot in the abdomen within the 6700 block of Gertrude Avenue. He was taken by ambulance to Metro Health Medical Center and is currently in critical condition.
Saturday, 2:32 AM: A 24-year-old woman was shot dead in the 2400 block of Morris Black Place. She was taken to UH in her private vehicle.
Saturday, 4am: A 23-year-old man arrived at the Metro after being shot in the face. It is unknown where the incident occurred.
Saturday, 10:00 p.m.: A 22-year-old man shot in the abdomen in a public square. He was taken to Metro by ambulance.
Sunday, 3:05 am: A 21-year-old man arrived at the Cleveland Clinic Euclid Hospital after being shot in the arm. He was then treated and released before being questioned by Cleveland police.
Sunday, 3:07 AM: A 33-year-old man arrived at the university saying he had been shot in the leg within 6900 blocks of St. Clair Avenue.
In addition to the shootings, a Cleveland paramedic suffered minor injuries in a hit-and-run incident on Friday night, and a car crash near West 98th Street and South Marginal Road on Sunday afternoon left three more seriously injured. I lost. Authorities also reported three suspected fatal overdoses.
Anyone with information about these incidents should call the Cleveland Police Department at (216) 623-5464 or the Cuyahoga County Crime Stopper at (216) 252-7463 immediately. A cash reward of up to $5,000 may be offered for information related to murder.
3 More news…
https://www.wkyc.com/article/news/crime/13-people-shot-3-dead-violent-weekend-cleveland-17-year-old-boy-killed/95-5381c60e-3b3f-4d12-a841-fb28073f13fc 13 shot dead, 3 dead as violent weekend continues in Cleveland