Ohio
Cleveland City Councilman Mike Polensek holds meeting on violence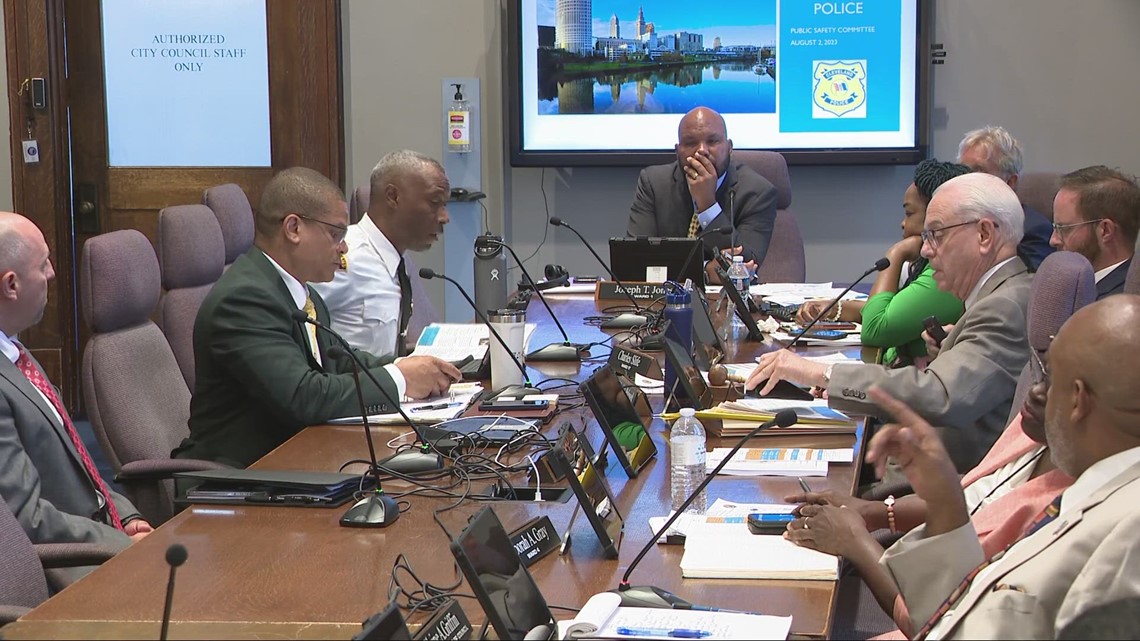 The meeting addressed stolen cars, increased shootings and homicides, and what the administration's game plan is going forward.
CLEVELAND — Cleveland City Councilman Mike Polensek held a Safety Committee with members of Mayor Justin Bibb's administration Wednesday, where that discussed the uptick in violence throughout Cleveland and what the city is doing about it.
City leaders have been anticipating the meeting for weeks as an opportunity to express frustration on the growing violence in Cleveland and to discuss how the city is doing tackling that crime.
"This is no way to live," Safety Committee Chair Polensek said during his opening comments. "In fact, it's not living; it's just existing."
Homicides are up more than 20% compared to this time last year, and vehicle thefts have seen a 93% jump.
"The anger and the frustration in our community is palpable. It is the most frustrating I've seen officers," Council President Blaine Griffin noted. "I get calls and texts every day from officers that are overwhelmed, and I'm getting concerned because they're even at a breaking point. I have to ask the question: When do we get to take the gloves off?"
"Right now to me, Mr. Chairman, someone needs to be fired," Ward 1 Councilman Joe Jones added. "I'm in a place where we need to shake the system up, because where we're going and how we're going right now, it's not working!"
Bibb's recently announced RISE Initiative includes investments in public safety and policing, strengthening partnerships with state and federal agencies, and increasing police visibility and aggressive enforcement in the community. Police Chief Wayne Drummond tried to emphasize those plans during the more-than-four-hour meeting.
"I know the folks are frustrated, and you can hear that in the councilmembers and see that in their faces," Drummond told 3News after the meeting had ended. "We're frustrated, too, but again, we do have a plan in place, and that's the mayor's RISE Initiative."
Besides the mayor, some of the anger in the room was also directed at the state.
"The fact that the governor has been to East Palestine many times, but in leadership in Columbus, the perception really seems to be that, 'Black and brown people dying in our cities, that's just how it is!'" Ward 17 Councilman Charles Slife said.
Gov. Mike DeWine did have a representative from the state in attendance: Ben Suver, chief of staff at the Ohio Department of Public Safety. He stressed the state's commitment to Cleveland is strong, adding that they have invested millions in city first responders and that the state highway patrol would continue to work with the Cleveland Division of Police.
According to Drummond, the department currently has 1,231 sworn officers, with nearly 100 having left so far this year and more than 250 currently eligible for retirement. When it comes to recruitment, 11 new officers graduated last week. nine are in the academy, and they anticipate 16 in the next class.
Still, it's far below the 180 officers they budgeted to hire this year, and Public Safety Director Karrie Howard confirmed the city would not reach that number.
"This is an issue that experts will tell you was coming," Howard told those assembled at the meeting. "It was compounded by COVID, and we are making the adjustments that are necessary to increase police staffing and a reduction in crime."
Howard says ongoing negotiations with police unions and a new marketing firm would help the city recruit and retain officers. He also pointed to ShotSpotter technology he claims has saved six lives and led to 23 arrests.
Still, councilmembers were fed up with the lack of progress in the streets.
"We're talking about the same old stuff, and at the end of the day, I don't see any improvement in my neighborhood," Jones said.
"The proof will be in the pudding," Polensek concurred. "I look at the numbers — we are at record numbers of crime and violence in the city."
You can watch Wednesday's meeting below:
3News' Matt Rascon is also attending the meeting to bring you the latest updates, which you can follow below…
"I am interested in hearing a plan from the city officials and also to find out how the State of Ohio can help the city get this violent crime wave under control," Councilman Polensek said.
"I am increasingly of the belief that the City administration does not have a plan to deal with the growing violence." The e-mail went on to say, "We need help if we are going to take back the streets and restore peace and order in Cleveland."
"I'm not going to live like this," Polensek declared. "I'm going to be on people like white on rice around here if I don't see a concerted effort to deal with this problem in our neighborhoods. I have not seen it."
More from WKYC…


https://www.wkyc.com/article/news/local/cleveland/cleveland-city-councilman-mike-polensek-safety-committee-violence-in-city/95-056896e8-8ada-4d6e-b6dd-5512087af2e6 Cleveland City Councilman Mike Polensek holds meeting on violence