Ohio
Engineering Technology and Management graduates excel immediately in manufacturing careers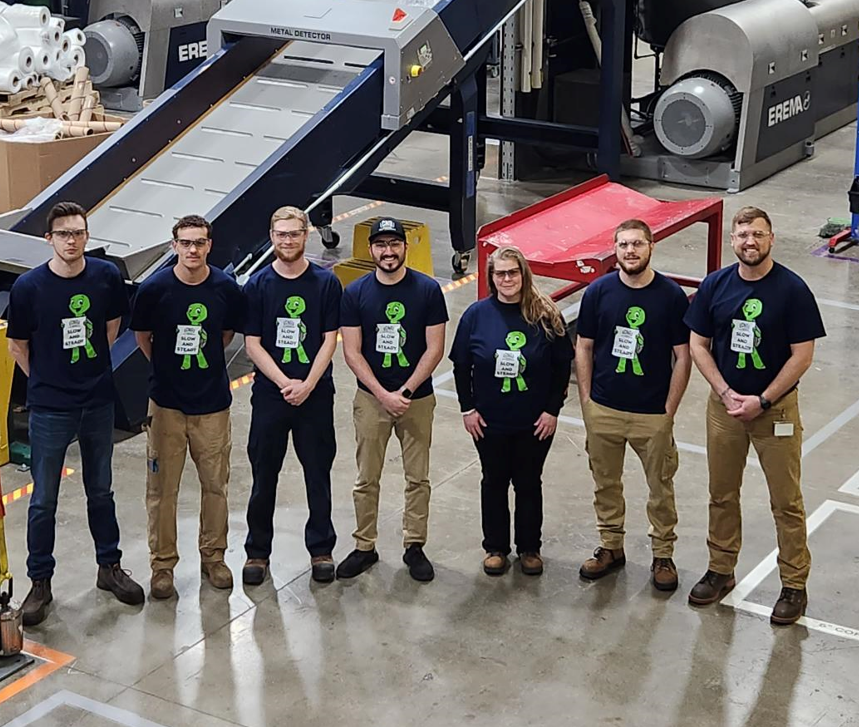 Jacob Zielinski (right) stands with Charter Next Generation employees.
recent graduates Engineering Technology and Management (ETM), Jacob Zielinski, BSETM '22 began his engineering career the moment he graduated from Ohio University. He currently works as a Continuous Improvement Manager for Charter Next Generation, a manufacturer of specialty films used in flexible packaging.
Zielinski's daily responsibilities include developing and implementing strategies for process improvement, monitoring and analyzing key performance indicators, coaching cross-functional teams, and training and coaching employees on process improvement methodologies. It has been. In addition to these responsibilities, he is also responsible for building and maintaining relationships with stakeholders, tracking and reporting progress on improvement initiatives, and ensuring compliance with regulatory requirements.
These duties are a direct reflection of the skills he learned as an ETM student. Russ Institute of TechnologyThe ETM program helps students develop technical expertise and business experience to effectively manage complex technical and business challenges. The curriculum includes business courses and as a result incorporates business secondary skills.
As a student, Zielinski gravitated toward the business side of his degree, Ralph and Luci Schey Sales Center.
"Joining Schey gave me the opportunity to develop my skills in sales, marketing and communications, as well as network with experts in the field," says Zielinski.
In addition to his involvement with the Schey Sales Center, Zielinski embraced the opportunity to grow as a student, attend labs, apply his previous work experience to the classroom, and seek out mentors to guide him professionally, academically, and personally. I searched. Specifically, Prof. Curtis Cohenour, Prof. Michael Kennedy, and Prof. Zaki Kuruppalil provided guidance, advice, and insight to develop Zielinski's skills and advance his career.
Today, Zielinski applies what he learned in the classroom to the industry. Using the principles of Lean Six Sigma, a process improvement approach focused on reducing waste, Zielinski led the first Kaizen event. Improvement events are team-led, time-sensitive exercises aimed at identifying quick solutions to improve processes in specific areas.
"I am particularly proud to have led the first packaging Kaizen event that has resulted in significant cost savings for my organization. It was a challenging project that required me to apply my skills.Seeing the positive impact of my work on the organization has been incredibly rewarding and a highlight of my professional journey so far. I am continuing.
A recent graduate, Zielinski is in the early stages of his career as a continuous improvement manager. He has already grown in his position as he accepted the opportunity to learn and apply the knowledge he honed as an ETM student at Ohio University.
"My advice to current or future ETM students who want to follow in my footsteps is to take advantage of all available resources, participate in extracurricular activities, seek mentors, stay curious, and be academically and It's about continuing to learn throughout your professional journey," Zielinski said.
https://www.ohio.edu/news/2023/03/engineering-technology-and-management-graduate-quickly-excels-manufacturing-career Engineering Technology and Management graduates excel immediately in manufacturing careers