Ohio
English Department kicks off fall public reading series on Sept. 6 with alumnus Prince Shakur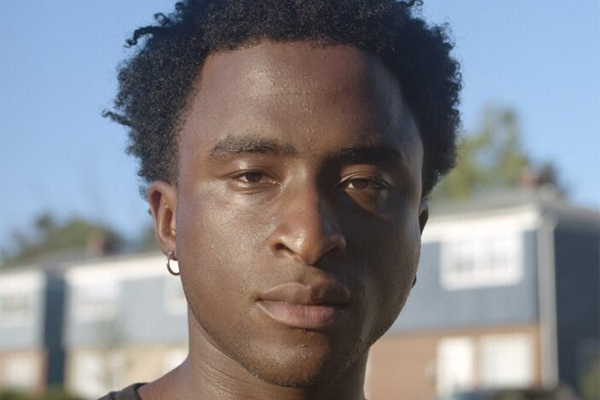 Prince Shakur | Photo by Taylor Dorrell
Ohio University's Quarter After Eight literary journal is building on the success of its 2022-23 inaugural reading series with a diverse slate of four readings this fall by guest authors, among them several alumni.
Quarter After Eight's fall 2023 featured readers are creative nonfiction writer Prince Shakur '15 on Sept. 6, fiction writer Jennifer Pullen '17PhD on Oct. 11, poet Carlos Andrés Gómez on Nov. 8, and creative nonfiction writer Melissa Faliveno on Dec. 6. All events are held from 6:30 to 8 p.m. at the 1804 Lounge in Baker Center.
This series complements fall readings by two writers hosted this fall by the English Department's creative writing program as part of its annual Visiting Writers series. Creative nonfiction writer Hilary Plum visits on Oct. 26 and poet John Gallaher '00PhD on Nov. 16. These readings will be held at Galbreath Chapel at 7 p.m. This programming is funded by the College of Arts and Sciences.
Quarter After Eight, founded in 1994 and produced by OHIO graduate students, is an annual literary journal devoted to the exploration of innovative writing.
At Quarter After Eight (QAE) readings, English graduate students take the podium to share poems, essays, short stories and excerpts from works in progress. After a brief intermission, the featured guest authors read from their work. In addition, the readings offer attendees a free delicious dinner of focaccia sandwiches and cookies made by the Athens Bread Company. The QAE series is funded by the Campus Involvement Center and Ohio University's Student Senate Appropriations Committee.
About the Quarter After Eight authors
Prince Shakur is a queer, Jamaican-American author, freelance journalist, videomaker, and New York Times–recognized organizer. He earned a B.A. in English in 2015 from OHIO's College of Arts and Sciences. His writings range from op-eds in Teen Vogue to features on the violent impacts of policing and cultural essays that delve into Black icons, like Bob Marley or Huey Newton. In 2017, his video series, Two Woke Minds, earned him the Rising Star Grant from GLAAD. As an organizer, he brought Black Lives Matter to Ohio University, did migrant caravan support work, and was a lead organizer with Black Queer and Intersectional Collective in Columbus, Ohio. His work, whether literary, visual, or grassroots, is steeped in his commitment to Black liberation, prison abolition, and queer resilience. His debut memoir, When They Tell You to Be Good, charts his political coming of age and has been hailed as "scorching, nonlinear journey through a Black man's search for self" by Kirkus Reviews.
Jennifer Pullen holds a B.A. from Whitworth University, an MFA from Eastern Washington University, and a Ph.D. in English from Ohio University in 2017. Her fiction, poetry, and non-fiction have appeared in journals and anthologies including Off the Coast, Phantom Drift Limited, Assay, Behind the Mask (Meerkat Press), Psychopomp, and F(r)iction. Her chapbook A Bead of Amber on Her Tongue won the Omnidawn Fabulist Fiction Award. Her textbook and anthology, Fantasy Fiction Writing is upcoming in January 2024 from Bloomsbury Academic. She grew up running wild in the forests of Washington state but has since been sufficiently domesticated to become an associate professor of creative writing at Ohio Northern University.
Carlos Andrés Gómez is a Colombian American poet from New York City. His debut full-length poetry collection Fractures (University of Wisconsin Press, 2020) won the 2021 Midwest Book Award for Poetry, the 2021 Independent Publisher Book Award Silver Medal, and the 2021 Georgia Author of the Year Award. It was selected by Natasha Trethewey as the winner of the 2020 Felix Pollak Prize in Poetry. Winner of the Foreword INDIES Gold Medal and the International Book Award for Poetry, Gómez has been published in New England Review, Beloit Poetry Journal, The Yale Review, BuzzFeed Reader, CHORUS: A Literary Mixtape (Simon & Schuster, 2012), and elsewhere. Gómez is a graduate of the University of Pennsylvania and the MFA Program for Writers at Warren Wilson College.
Melissa Faliveno is the author of the essay collection TOMBOYLAND, named a Best Book of 2020 by NPR, New York Public Library, Oprah Magazine, and Electric Literature, and a recipient of a 2021 Award for Outstanding Literary Achievement from the Wisconsin Library Association. Her work has appeared in Esquire, Paris Review, Bitch, Lit Hub, and Brooklyn Rail, among others; received a notable selection in Best American Essays; and appears in the anthology Sex and the Single Woman: 24 Writers Reimagine Helen Gurley Brown's Cult Classic (Harper Perennial, 2022). Born and raised in small-town Wisconsin and a first-generation college graduate, she earned a BA in English and creative writing from the University of Wisconsin and an MFA from Sarah Lawrence College and has taught creative writing at Kenyon College, Denison University, Sarah Lawrence, and Catapult and to high school students and incarcerated men in and around New York City. The former senior editor of Poets & Writers Magazine, she is an assistant professor of creative writing at the University of North Carolina–Chapel Hill and on the MFA faculty at Vermont College of Fine Arts.
About the English Department visiting writers
Hilary Plum (she/her) is a writer, editor and teacher living in Cleveland Heights, Ohio. She is the author of five books, including Excisions (2023), a volume of poetry; Hole Studies (2022), an essay collection; and the novel Strawberry Fields (2018), which won the Fence Modern Prize in Prose. With Zach Savich, she edits the Open Prose Series at Rescue Press. She teaches at Cleveland State University and in the NEOMFA program, and she serves as associate director of the CSU Poetry Center.
John Gallaher is the author of six books of poetry, most recently, My Life in Brutalist Architecture, forthcoming in 2024 from Four Way Books, two co-authored books of poetry, and two edited collections. His poems have appeared in The Best American Poetry, APR, Poetry, New England Review, The Kenyon Review, New Ohio Review, and others. He lives in northwest Missouri and co-edits the Laurel Review. He earned a Ph.D. in English from Ohio University's College of Arts and Sciences.
For more information, contact Candace Walsh, Quarter After Eight co-editor and visiting writers coordinator in the College of Arts and Sciences English Department, at cw613019@ohio.edu.
https://www.ohio.edu/news/2023/08/english-department-kicks-fall-public-reading-series-sept-6-alumnus-prince-shakur English Department kicks off fall public reading series on Sept. 6 with alumnus Prince Shakur