Ohio
Fox Run of Findlay residents find new homes.Facility closure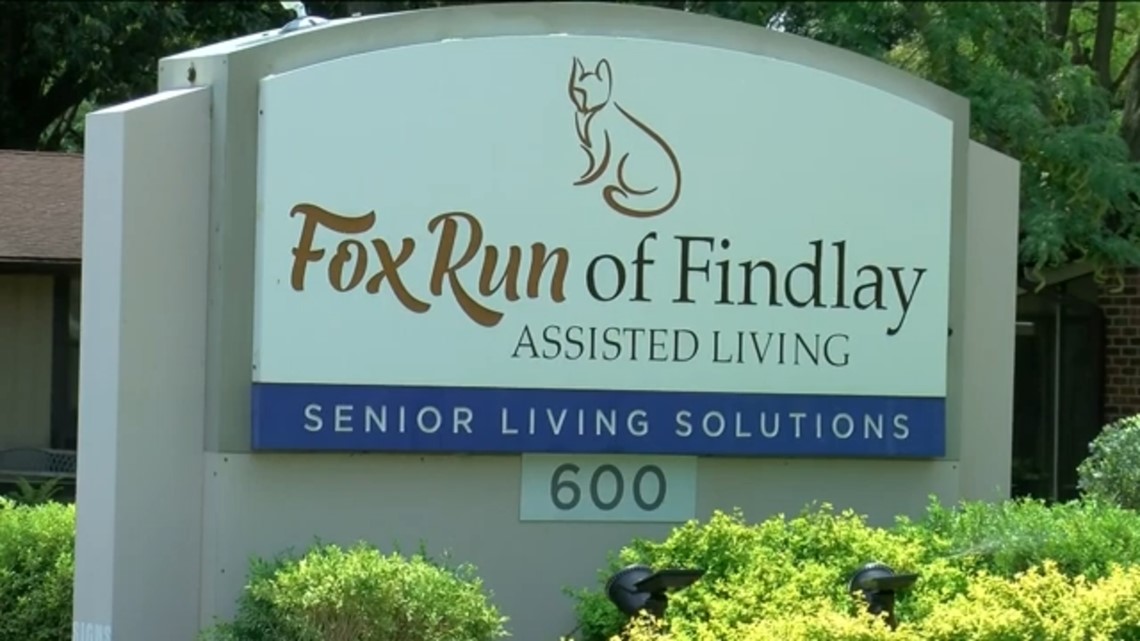 Owners Nick and Whitney McDevitt said they plan to resume Fox Run in the future.
Owners Nick and Whitney McDevitt said the past year has been a test of hard work to keep the facility open and they want the community to know that they are still a small business that cares.
They said they don't take the loss lightly.
Fox Run emailed part of its statement to WTOL 11 on Monday.
"They say Ohio is small business friendly, but everything that's happening at Fox Run in Findlay isn't small business friendly.
The statement said 60 residents had moved out of the facility in the past year, wiping out 80% of the facility's revenue.
After the permanent closure, the remaining 13 seniors were forced to find new homes within just three days.
Mandy Beagle, spokesperson for Sunrise Senior Living in Findlay, said the search for a new home shouldn't be rushed.
"When they asked us to come and evaluate the tenants when we were placing them, we did everything we could to help them, and we ended up doing that," Beagle said. "I had to contact several different residents there."
Beagle said even if more than seven facilities were helping seniors at Fox Run, they wouldn't be a perfect fit.
"It must be scary and stressful, so I think stability is one of the biggest things they were looking for, and I think they were looking for a place that they thought would be their new home," she said.
Sunrise is currently devoid of Fox Run refugees. Other Findlay assisted living facilities said former Fox Run residents were staying there, but declined to be interviewed, citing residents' privacy.
The McDevitts said they plan to resume Fox Run in the future.
The Ohio Department of Health issued the following statement to WTOL 11 regarding residents and the future of Fox Run:
"Under legal proceedings, Fox Run is no longer a licensed operating facility. Due to ongoing litigation, the Ohio Department of Health (ODH) cannot comment on the future of the facility."
All residents have been relocated. The ODH Transition Team, who visited the facility earlier this month to assist, will continue to follow up to ensure that the residents' further needs are met.
The Office of the State Long Term Care Ombudsman, which operates within the Ohio Department of Aging (ODA), is also assisting the ODH transition team in this effort. "
Fox Run owners say there is still hope, and that their top priority is to ensure seniors can live where they want.
The full statement from the Fox Run owners is below.
"This situation has been going on for over a year and a half. If we had still met our one-year target, perhaps we could have continued to move forward. Our finances got even tighter in late June when residents were told by the ombudsman that they had six to eight weeks to move and that they would not have to pay rent. As a result, we lost several residents and lost more than 80 percent of our income."
We hired a new team of nurses by January 6, 2022, the last two nurses we hired while we were at the facility that day, and have been in compliance ever since. We turned staffing issues into opportunities by looking in the mirror. Since then, we've been working on ourselves as small business owners and as individuals. Today, I can honestly say that our leadership is strong, our focus on providing the best quality of life for our residents is strong, our families are strong, and our drive to bring them home is strong. We are a small business and have done everything ODH and ODA have asked us to do in hopes of moving forward. The industry's revenue comes from rent collected from tenants, and in January 2022, more than 60 tenants moved out within the month. They are the residents we didn't want to move, the residents we comforted and cried with, the residents we promised to bring home.
As of today, there are over 30 Medicaid-waivers waiting to move in. But instead of working together to provide these residents with the homes they want, the state, which is supposed to be their mouthpiece and mouthpiece, does not allow Fox Run of Findlay to be called home. We have affidavits of previous residents and new residents wanting and waiting to move in. Some of these residents want so much to return home and have found ways to obtain financial assistance to return at their own expense. However, on OALA's advice, we decided not to bring those residents back so as not to offend ODH and ODA. Because, after all, our goal here was to continue working with them and provide a much-needed service to the community at Medicaid-waived apartments. We have these apartments available, and if we allow them to continue to provide care and allow exempt residents to move in, we will soon be saving small businesses. This is a business that offers over 30 jobs at full capacity, a business that truly cares about the residents who call us home, a business that is all about our family of five. All we ever needed was approval from ODH and ODA. This approval would have been obtained after the Seventh Draft of the Corrections Plan was approved on February 1, 2022. Then we can bring back many residents who depend on us.
Over the past 18 months, we have been fully compliant, but every time the state comes to our facility to conduct a complaint investigation, the claims are found to be baseless. In other words, we were fully compliant, following all the rules and doing everything right. But except that this is our reality, through many confusing and mixed routes, our stories and truths have been rewritten many times like a terrifying phone game. Our actions over the last 18 months are important and should make a difference. We don't have the money to fight a long war with the state. Small businesses don't have the money. And to tell you the truth, we weren't "fighting" all this time. Instead, we have tried to work with the state to keep the doors open and allow residents to live in the homes of their choice. As a small business, we need a way to share our story and make it heard by small business owners, their families and, in our case, those making decisions that affect the lives of our residents. If you go back and listen to any of our hearings on ODH and ODA, you'll hear a very different story typed and delivered to your doorstep. While there was sympathy, sympathy, and confusion at the hearings as to why we were still being punished, the reports we received told a very different story, containing hearsay and unverified statements, and referring to events that did not occur during the time we were in prison.
Ohio says it's small business friendly, but not everything that's happening at Findlay's Fox Run is small business friendly. Most small businesses wouldn't care enough about their customers to keep us going the long, windy road we've been. To be honest, that's the big difference. We are a caring small business, a small business that provides residents with homes where they can live the quality of life they deserve.
We take what we do very seriously and have been giving it our all, but I am losing what has been my passion for over 20 years. When ODH investigators have visited our facility over the past year and a half, we have been complimented and encouraged to keep doing what we are doing, but nothing has happened. We put our facilities, our team and our amazing residents first throughout this process.
In the past year and a half, we've sold two cars, two National Champion rings, the watch my father and in-law gave my husband when he graduated from law school, some family jewelry, tools, etc., all to keep the Fox Run of Findlay running. Every time we had to pay for something, we always found a way to pay it. And to be honest, we're pretty sure that's why the power went out without informing us first.
Most of the residents currently living with us have very large apartments that meet the standard of living, but most of them also pay less than our base rent. Because that's the only money they have. We never rejected them. Instead, we worked with all of them to find a way. This is not something we started doing now, and since purchasing this property in 2017, we have completely overhauled our tariffs, eliminated exorbitant costs for simple services, and constantly found ways to work with our residents.
Last Christmas our 15 year old son wrote a letter to the Governor with his Christmas wishes. He asked the governor for help so he wouldn't have to see his "role models continue to struggle" and that his sisters had a merry Christmas. That was the hardest thing to read as a parent and still no response.
Perhaps our foolish optimism has brought us this far, but I like to think it's because we still have hope, we still believe in the good of others, we still believe in America. It's time to stand up for our predecessors and be a true spokesperson for people everywhere. After all, their voices should come first. "
https://www.wtol.com/article/news/local/fox-run-of-findlay-assisted-living-residents-have-new-homes/512-3cf4ff67-8fff-4860-8e9d-d0cb5a0f6c29 Fox Run of Findlay residents find new homes.Facility closure