Ohio
High school football best bets: Week 2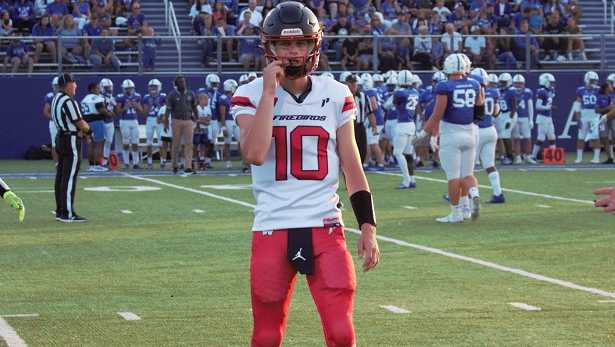 One week down, nine to go before the 2023 playoffs. For those following along, all of the teams that last week's Best Bets column said had the edge won their games last Friday night. However, some of the games were not as close as predicted. East Central continued its blowout dominance of Lawrenceburg, Badin took bragging rights after blanking Hamilton, Milford also dominated Edgewood once again, and La Salle took its third straight from Colerain.This week, two of the bigger conferences begin their nine-game conference schedule, including the Greater Miami Conference, which will see Lakota West try to rebound after an opening loss to St. Xavier by taking on Princeton in West Chester. One year removed from knocking off the Colerain Cardinals at Cardinal Stadium, the Middletown Middies will host the Cardinals in hopes of their first back-to-back wins over the Cardinals since God knows when. Jon Kitna's debut didn't go as planned at Lakota East, so the Thunderhawks will look to right the ship by hosting the aforementioned Hamilton Big Blue. Over in Northern Kentucky, a couple of unbeatens will square off when Campbell County hosts the Beechwood Tigers.Will the standings of the GMC undergo a seismic shift this week? Will an upset be pulled off in Alexandria? Here are this week's Best Bets.#3 PRINCETON AT #5 LAKOTA WESTMy oh my how much a difference one year can make. Despite only mustering up 16 points in last year's nail-biting win over St. Xavier, Lakota West was still able to rack up over 273 yards of total offense. In Week 1 of 2023, the Firebirds only tallied 94 yards of total offense. That's the lowest total for Lakota West since 2019. That side of the ball was abysmal as Mitch Bolden's successor, freshman Jackson Smith, only threw for 53 yards and three interceptions. Now, to be fair, it's not easy replacing a record-setting quarterback by playing as a freshman against one of the top high school football programs in the country. Smith still has plenty of time to grow into the role and develop as a passer. By Week 10's matchup against Hamilton, expect Smith to significantly improve over the course of the season and lead Lakota West to a few wins in the playoffs.The defense, however, was pretty stout against a tough Bombers defense. Out of 13 third downs, St. Xavier only converted five. The Bombers went for it on fourth down twice and were unsuccessful both times. Linebacker Micah Markley was all over the field, tallying 11 total tackles, including seven solo. Elijah Davis was also a stud with 3.5 tackles for loss. Expect that high-level defense all season.Like Lakota West, Princeton graduated a few key players from last year's team that went 8-2 in the regular season. Sophomore Deangelo Birch steps in to take over as quarterback from RJ West. Birch only threw seven passes in Week 1 against Elyria, completing five for 117 yards and two touchdowns. Junior Jordan Fitzpatrick also found the end zone three times, twice on the ground and once through the air.On special teams, the Vikings are a mix bag. The duo of Princeton kickers combined to miss one field goal and one extra point last week. However, one of the more exciting plays of the opening weekend came from a 75-yard punt return for a touchdown by Antonio Hunter. While special teams didn't factor much into wins and losses in 2022 (only one game was decided by a touchdown or less – a loss), the inexperience on offense may force special teams to step up in games such as this week's matchup against Lakota West.The Vikings defense stepped up big time in Week 1. Princeton's defense combined for four sacks and a staggering 15 tackles for loss. This is a defense that a year ago pitched four shutouts and only gave up more than 14 points three times. Two of those games were against the Firebirds.Rosters on both sidelines are completely different than last season. Inexperience at the quarterback position could make this game interesting. While Lakota West's defense is stout and will not give up many points this season, the offense may not put many points on the board either. This game is truly a toss-up, but the lean goes ever so slightly to the Vikings.#22 COLERAIN AT #19 MIDDLETOWNWho had the Middletown Middies on top of the Greater Miami Conference after one week on their 2023 high school football bingo card? Yet, here we are after the Middies were one of only two teams in the GMC to win its opening game. Middletown took significant strides towards competing in the GMC last season when the Middies stunned Colerain, knocked off Sycamore, and lost three one-possession games.Northmont transfer Jerimiah Landers stepped in as Middies quarterback after the graduation of Kellen Davis. Landers showed a lot of potential in his Middletown debut, but seemed a little trigger shy. Landers completed seven passes for 85 yards and two touchdowns. He also threw two interceptions. As the game went on, however, the nerves seemed to subside. That was evident in a fourth-and-ten play that resulted in a 34-yard touchdown pass to Chandler Shields. With the rust now off, Landers should be able to sling the ball with confidence and take the Middies offense to another level.The highlight of the Week 1 win, however, was the Middies run game. Eric Schoeder took the reins in the backfield after Lemond Chambers graduated and made the best of his opportunity, rushing for 177 yards and a touchdown. The score was the first offensive play of the season, going for 76 yards.Colerain, on the other hand, was completely overwhelmed by the La Salle Lancers. The Cardinals offense only mustered up 75 yards of total offense, including a horrendous -31 rushing yards. Third-down efficiency was also a problem, only converting twice on 11 attempts. Not much went right for the Cardinals on Week 1 on either side of the ball. However, the defense was able to force two turnovers – a fumble and an interception.In 2022, Middletown went on the road to Cheviot Rd. and stole a nail-biting 20-18 win from the Cardinals. With Middletown on the rise and Colerain taking a step back, Middletown is the clear favorite and should easily handle Colerain for back-to-back wins. Beyond Week 2, don't be surprised if the Middies compete for a top-half finish in the GMC.#23 HAMILTON AT #13 LAKOTA EASTThis GMC matchup pits two teams coming off disappointing losses in their first games of the season. Hamilton couldn't find a rhythm on offense and was shut out by Badin in the super-hyped Battle of Hamilton. Former Bengal Jon Kitna didn't have an easy go in his Lakota East coaching debut, losing to a Centerville team that went 10-3 a year ago and notched a few playoff wins.The Big Blue came out flat against the Rams and just couldn't put the pieces together on offense. Hamilton failed to convert a single third down and only tallied two first downs the entire game, which makes the 118 yards of total offense somewhat impressive. While the offense was anemic, the defense wasn't too bad, only limiting the Rams to 204 total yards on offense. Six tackles for loss also helped the defense stay in the game.Lakota East, meanwhile, showed some promise on offense. Jon's son, Jamison Kitna completed 18 passes for 181 yards and touchdown, while also adding a rushing touchdown. The Houston commit showed flashes of stardom that could be a problem for opposing defenses down the line in the GMC.This game could be closer than some think, but the Thunderhawks should roll to the first win of the Jon Kitna era.#24 BEECHWOOD AT CAMPBELL COUNTYThe Campbell County Camels are coming off an emotional week after a tragic injury struck their game against Scott. Scott's Jordan Hardy was making a tackle on a kickoff when he suffered either a neck or spine injury. He was taken to a local hospital and was released the next morning. The result was the game being called early in the fourth quarter with Campbell County up 56-6. Quarterback Nate Smith tallied over 250 all-purpose yards and five touchdowns (four passing and one rushing). Everything was clicking for the Camels up until the injury.Beechwood, meanwhile, kicked off the post-Noel Rash era with a 31-14 win over McNicholas. The Tigers defense needs to step up a little more, however, if it wants to be the elite defense that has defined the several state title-winning teams. In Week 1, Beechwood gave up over 300 yards of total offense against the Rockets. It's a nit-picking note for a team that has incredibly high standards year in and year out.Beechwood has the edge in this one, but Campbell County could make it interesting.GAME OF THE WEEKMake sure to check out the complete preview for this week's featured game on the Blitz 5 Tour, No. 12 Covington Catholic at No. 25 HighlandsHere are some other games for teams ranked inside the Blitz 5 Top 25:OHIOWalnut Hills at No. 1 Winton WoodsNo. 2 St. Xavier at Martin Luther King, Jr. (MI) (Saturday)Bishop Dwenger (IN) at No. 4 MoellerNeumann & Goretti (PA) at No. 6 ElderSycamore at No. 7 FairfieldNo. 8 Withrow at SpringfieldLoveland at No. 10 AndersonNo. 11 Milford at LebanonNo. 14 Taft at ReadingTurpin at No. 15 KingsRoss at No. 16 Mount HealthyNo 17 Mason at Oak HillsNo. 18 La Salle at NorthmontNo. 20 Badin at Columbus De SalesNo. 25 Edgewood at Clinton-MassieINTERSTATEHarrison at No. 9 East Central
CINCINNATI —
One week down, nine to go before the 2023 playoffs. For those following along, all of the teams that last week's Best Bets column said had the edge won their games last Friday night.
However, some of the games were not as close as predicted. East Central continued its blowout dominance of Lawrenceburg, Badin took bragging rights after blanking Hamilton, Milford also dominated Edgewood once again, and La Salle took its third straight from Colerain.
This week, two of the bigger conferences begin their nine-game conference schedule, including the Greater Miami Conference, which will see Lakota West try to rebound after an opening loss to St. Xavier by taking on Princeton in West Chester. One year removed from knocking off the Colerain Cardinals at Cardinal Stadium, the Middletown Middies will host the Cardinals in hopes of their first back-to-back wins over the Cardinals since God knows when. Jon Kitna's debut didn't go as planned at Lakota East, so the Thunderhawks will look to right the ship by hosting the aforementioned Hamilton Big Blue. Over in Northern Kentucky, a couple of unbeatens will square off when Campbell County hosts the Beechwood Tigers.
Will the standings of the GMC undergo a seismic shift this week? Will an upset be pulled off in Alexandria? Here are this week's Best Bets.
#3 PRINCETON AT #5 LAKOTA WEST
My oh my how much a difference one year can make.
Despite only mustering up 16 points in last year's nail-biting win over St. Xavier, Lakota West was still able to rack up over 273 yards of total offense. In Week 1 of 2023, the Firebirds only tallied 94 yards of total offense. That's the lowest total for Lakota West since 2019. That side of the ball was abysmal as Mitch Bolden's successor, freshman Jackson Smith, only threw for 53 yards and three interceptions.
Now, to be fair, it's not easy replacing a record-setting quarterback by playing as a freshman against one of the top high school football programs in the country. Smith still has plenty of time to grow into the role and develop as a passer. By Week 10's matchup against Hamilton, expect Smith to significantly improve over the course of the season and lead Lakota West to a few wins in the playoffs.
The defense, however, was pretty stout against a tough Bombers defense. Out of 13 third downs, St. Xavier only converted five. The Bombers went for it on fourth down twice and were unsuccessful both times. Linebacker Micah Markley was all over the field, tallying 11 total tackles, including seven solo. Elijah Davis was also a stud with 3.5 tackles for loss. Expect that high-level defense all season.
Like Lakota West, Princeton graduated a few key players from last year's team that went 8-2 in the regular season. Sophomore Deangelo Birch steps in to take over as quarterback from RJ West. Birch only threw seven passes in Week 1 against Elyria, completing five for 117 yards and two touchdowns. Junior Jordan Fitzpatrick also found the end zone three times, twice on the ground and once through the air.
On special teams, the Vikings are a mix bag. The duo of Princeton kickers combined to miss one field goal and one extra point last week. However, one of the more exciting plays of the opening weekend came from a 75-yard punt return for a touchdown by Antonio Hunter. While special teams didn't factor much into wins and losses in 2022 (only one game was decided by a touchdown or less – a loss), the inexperience on offense may force special teams to step up in games such as this week's matchup against Lakota West.
The Vikings defense stepped up big time in Week 1. Princeton's defense combined for four sacks and a staggering 15 tackles for loss. This is a defense that a year ago pitched four shutouts and only gave up more than 14 points three times. Two of those games were against the Firebirds.
Rosters on both sidelines are completely different than last season. Inexperience at the quarterback position could make this game interesting. While Lakota West's defense is stout and will not give up many points this season, the offense may not put many points on the board either. This game is truly a toss-up, but the lean goes ever so slightly to the Vikings.
#22 COLERAIN AT #19 MIDDLETOWN
Who had the Middletown Middies on top of the Greater Miami Conference after one week on their 2023 high school football bingo card? Yet, here we are after the Middies were one of only two teams in the GMC to win its opening game. Middletown took significant strides towards competing in the GMC last season when the Middies stunned Colerain, knocked off Sycamore, and lost three one-possession games.
Northmont transfer Jerimiah Landers stepped in as Middies quarterback after the graduation of Kellen Davis. Landers showed a lot of potential in his Middletown debut, but seemed a little trigger shy. Landers completed seven passes for 85 yards and two touchdowns. He also threw two interceptions. As the game went on, however, the nerves seemed to subside. That was evident in a fourth-and-ten play that resulted in a 34-yard touchdown pass to Chandler Shields. With the rust now off, Landers should be able to sling the ball with confidence and take the Middies offense to another level.
The highlight of the Week 1 win, however, was the Middies run game. Eric Schoeder took the reins in the backfield after Lemond Chambers graduated and made the best of his opportunity, rushing for 177 yards and a touchdown. The score was the first offensive play of the season, going for 76 yards.
Colerain, on the other hand, was completely overwhelmed by the La Salle Lancers. The Cardinals offense only mustered up 75 yards of total offense, including a horrendous -31 rushing yards. Third-down efficiency was also a problem, only converting twice on 11 attempts. Not much went right for the Cardinals on Week 1 on either side of the ball. However, the defense was able to force two turnovers – a fumble and an interception.
In 2022, Middletown went on the road to Cheviot Rd. and stole a nail-biting 20-18 win from the Cardinals. With Middletown on the rise and Colerain taking a step back, Middletown is the clear favorite and should easily handle Colerain for back-to-back wins. Beyond Week 2, don't be surprised if the Middies compete for a top-half finish in the GMC.
#23 HAMILTON AT #13 LAKOTA EAST
This GMC matchup pits two teams coming off disappointing losses in their first games of the season. Hamilton couldn't find a rhythm on offense and was shut out by Badin in the super-hyped Battle of Hamilton. Former Bengal Jon Kitna didn't have an easy go in his Lakota East coaching debut, losing to a Centerville team that went 10-3 a year ago and notched a few playoff wins.
The Big Blue came out flat against the Rams and just couldn't put the pieces together on offense. Hamilton failed to convert a single third down and only tallied two first downs the entire game, which makes the 118 yards of total offense somewhat impressive. While the offense was anemic, the defense wasn't too bad, only limiting the Rams to 204 total yards on offense. Six tackles for loss also helped the defense stay in the game.
Lakota East, meanwhile, showed some promise on offense. Jon's son, Jamison Kitna completed 18 passes for 181 yards and touchdown, while also adding a rushing touchdown. The Houston commit showed flashes of stardom that could be a problem for opposing defenses down the line in the GMC.
This game could be closer than some think, but the Thunderhawks should roll to the first win of the Jon Kitna era.
#24 BEECHWOOD AT CAMPBELL COUNTY
The Campbell County Camels are coming off an emotional week after a tragic injury struck their game against Scott. Scott's Jordan Hardy was making a tackle on a kickoff when he suffered either a neck or spine injury. He was taken to a local hospital and was released the next morning. The result was the game being called early in the fourth quarter with Campbell County up 56-6. Quarterback Nate Smith tallied over 250 all-purpose yards and five touchdowns (four passing and one rushing). Everything was clicking for the Camels up until the injury.
Beechwood, meanwhile, kicked off the post-Noel Rash era with a 31-14 win over McNicholas. The Tigers defense needs to step up a little more, however, if it wants to be the elite defense that has defined the several state title-winning teams. In Week 1, Beechwood gave up over 300 yards of total offense against the Rockets. It's a nit-picking note for a team that has incredibly high standards year in and year out.
Beechwood has the edge in this one, but Campbell County could make it interesting.
GAME OF THE WEEK
Make sure to check out the complete preview for this week's featured game on the Blitz 5 Tour, No. 12 Covington Catholic at No. 25 Highlands
Here are some other games for teams ranked inside the Blitz 5 Top 25:
OHIO
Walnut Hills at No. 1 Winton Woods
No. 2 St. Xavier at Martin Luther King, Jr. (MI) (Saturday)
Bishop Dwenger (IN) at No. 4 Moeller
Neumann & Goretti (PA) at No. 6 Elder
Sycamore at No. 7 Fairfield
No. 8 Withrow at Springfield
Loveland at No. 10 Anderson
No. 11 Milford at Lebanon
No. 14 Taft at Reading
Turpin at No. 15 Kings
Ross at No. 16 Mount Healthy
No 17 Mason at Oak Hills
No. 18 La Salle at Northmont
No. 20 Badin at Columbus De Sales
No. 25 Edgewood at Clinton-Massie
INTERSTATE
Harrison at No. 9 East Central
https://www.wlwt.com/article/cincinnati-high-school-football-best-bets-week-2/44887215 High school football best bets: Week 2