Ohio
Julie Cromer named FBS Nike Executive of the Year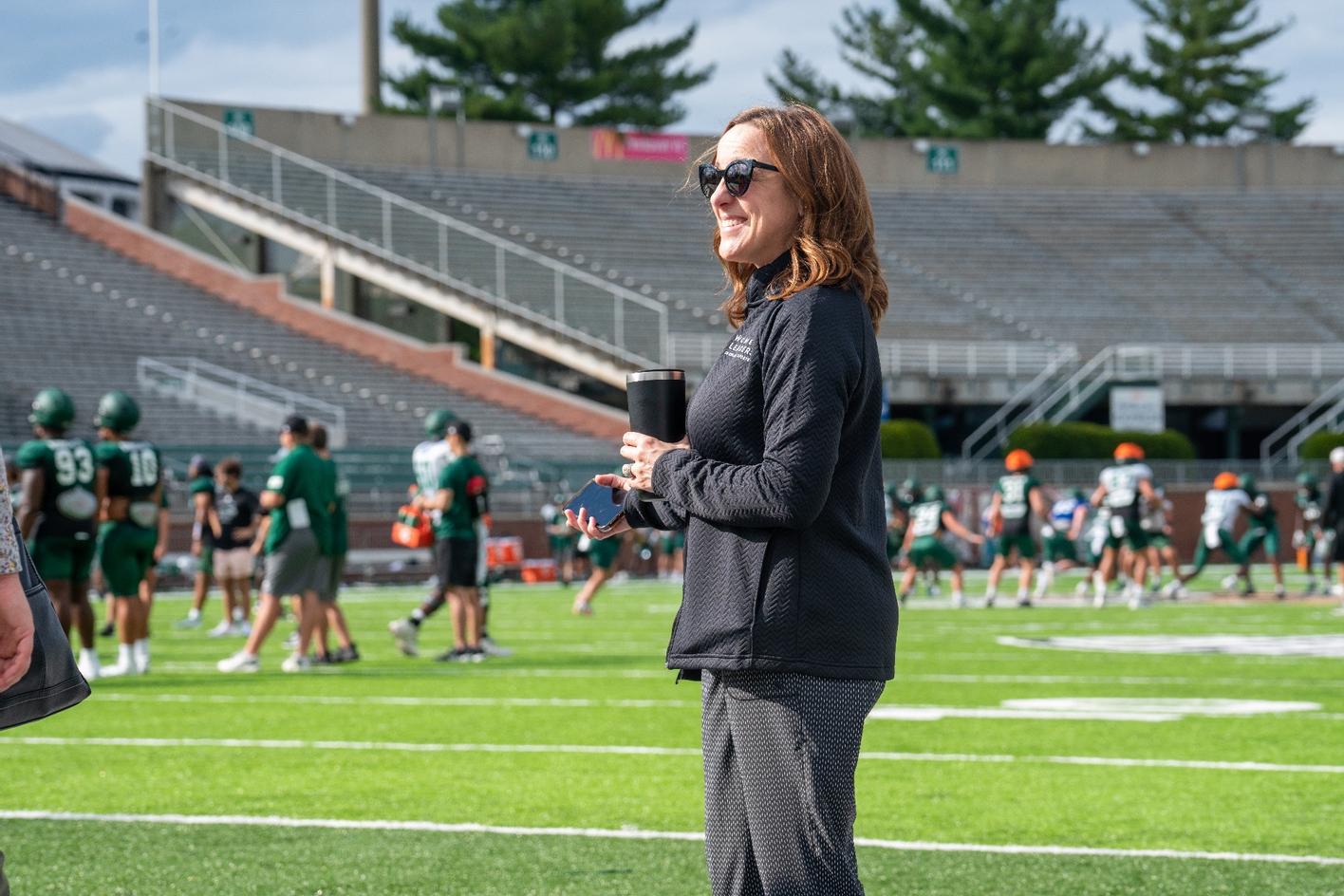 Ohio University Director of Athletics Julie Cromer has been named the NCAA Division I FBS Nike Executive of the Year, as announced by Women Leaders in College Sports (Women Leaders).
Under Cromer's leadership, Ohio Athletics has continued to excel on the field while re-imagining student-athlete engagement and setting records for graduation success. Cromer also reconfigured OHIO's external relations department, creating one of the first digital strategies units in the Mid-American Conference (MAC). As a result, OHIO has led the league with the most followed and most engaged digital media platforms in the conference for the last three years.  
OHIO has also enjoyed athletic success during its first female director of athletics' tenure. The 2020-21 men's basketball team returned to the NCAA Tournament after winning the Mid-American Conference Tournament for the first time in nine years. During the 2021-22 season, every Bobcat Olympic sport team made the MAC Tournament for the first time since 2009-10. The 2022 football team finished the season as MAC East and Arizona Bowl Champions with a 10-4 record, marking its first 10-win season since 2011 and the second-best turnaround in FBS football history. 
"It's such an honor to be recognized by Women Leaders in College Sports, not only because it celebrates the exceptional achievements of our entire Ohio Athletics staff, coaches and student-athletes, but also because of the mission of the organization itself," said Cromer. "I want to thank Women Leaders in College Sport for recognizing our efforts to support our Bobcat student-athletes in their academic and athletic pursuits while developing future leaders in college sports and beyond."  
Women Leaders is committed to recognizing the achievements and successes of women working in sports. Celebrating these accomplishments is an integral piece of advancing women in sports.
"We are thrilled to celebrate this group of outstanding women who are blazing trails in the sports industry," said Patti Phillips, CEO of Women Leaders in College Sports. "These women are the definition of leaders and innovators. They are highly deserving of their awards, and we can't wait to honor them in New Orleans."
The award recipients will be recognized at the Women Leaders National Convention held in New Orleans from Oct. 8-10. Learn more about the Women Leaders' annual awards at this website. A special thanks to partners, Nike: the presenting sponsor of the Lifetime Achievement and Executive of the Year Awards, and Herff Jones: the official award provider of Women Leaders in College Sports.
To see the full list of honorees, go to womenleadersincollegesports.org.
https://www.ohio.edu/news/2023/08/julie-cromer-named-fbs-nike-executive-year Julie Cromer named FBS Nike Executive of the Year