Ohio
McCarthy bid heads into the Day 4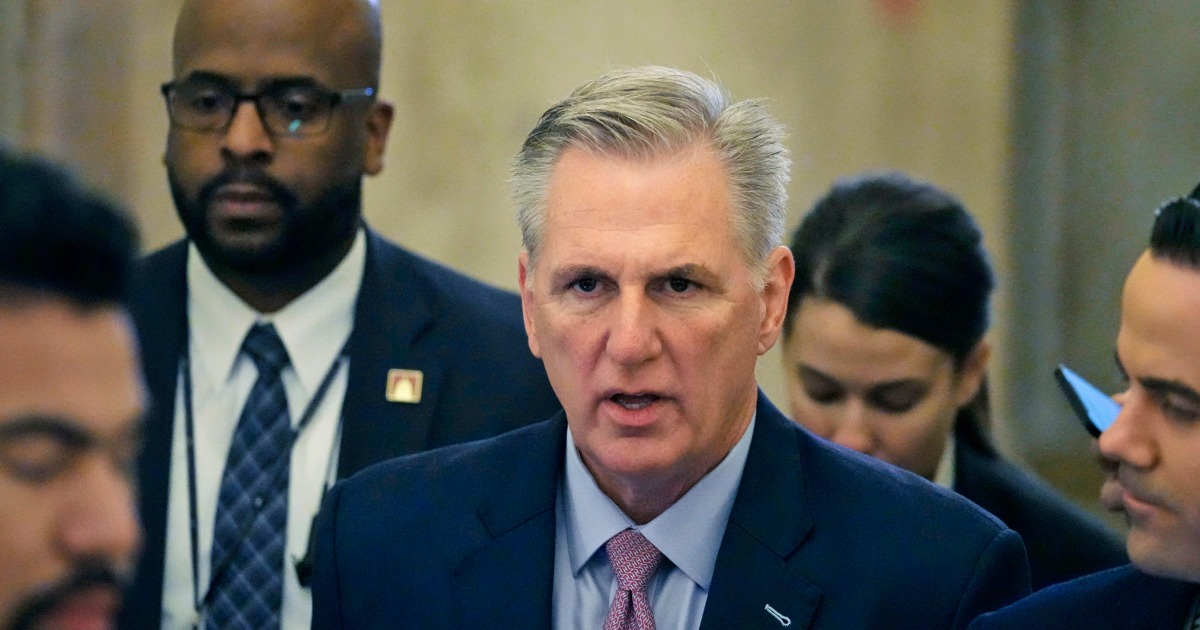 McCarthy thanks Trump, credits him with helping move final votes
McCarthy thanked Trump for his support in an impromptu news conference with reporters following the vote.
"I do want to especially thank President Trump," he said, adding that he spoke to Trump earlier in the evening and that Trump helped move the final votes that got him over the finish line.
"What he's really saying, really for the party, that we have to come together," McCarthy said.
McCarthy gets his sign above the office door
After moving into the office on Tuesday, McCarthy was finally able to call it his own.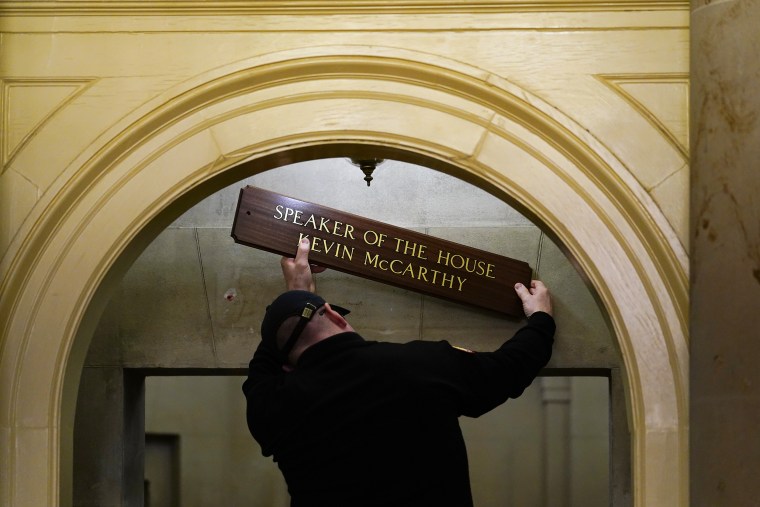 Cheers as House adjourns until 5 p.m. Monday
After a contentious week, the House adjourned shortly before 2 a.m. until 5 p.m. ET on Monday — this time gaveled out by Speaker McCarthy amid cheers from lawmakers.
Jeffries formally becomes first Black leader of a political congressional caucus
Rep. Pete Aguilar, D-Calif., gave the formal notice on the floor that Rep. Hakeem Jeffries was selected by Democrats to be the minority leader — making him the first Black person to lead a political caucus in Congress.
Members have now been sworn in after days of limbo
The members of the House took the oath of office in masse in the early morning hours of Saturday after waiting four days while the chamber was deadlocked on the speaker vote.
"I hope that was worth the wait," McCarthy said afterward.
Among the new members: George Santos, the 34-year-old New York Republican who has confessed to lying about part of his background. He faces several investigations into his campaign amid calls for him to resign.
Overall, Santos does not appear to have received a warm welcome from his GOP colleagues. During the numerous speaker votes, he was often seen sitting by himself, though on at least one occasion he was photographed chatting with Rep. Marjorie Taylor Greene, R-Ga.
McCarthy sworn in
McCarthy has taken his oath as House speaker.
Ukraine's Zelenskyy congratulates McCarthy
Ukrainian President Volodymyr Zelenskyy praised McCarthy for his election to the speakership, adding that American aid has been critical in his country's fight against Russia.
Some Republicans have been critical of U.S. military aid to Ukraine, raising concerns that the GOP-controlled House may decrease the assistance.
"We're counting on your continued support and further U.S. assistance to bring our common victory closer," Zelenskyy wrote on Twitter.
McCarthy takes speaker gavel — at last
McCarthy delivered an acceptance speech after finally ascending the dais and taking the speaker's gavel.
"Our system is built on checks and balances and it's time for us to be a check on the president's policies," McCarthy said.
He discussed the border, the national debt, China and ending "woke indoctrination at our schools."
"We will use the power of the purse and the power of the subpoena to get the job done," McCarthy said.
McCarthy said the House's first committee hearing will be held at the southern border.
How long did it take to elect a speaker? 24 hours and 12 minutes
The drawn-out and contentious process to elect McCarthy as the House speaker took over 24 hours from gavel to gavel, according to a tally by NBC News.
From Tuesday at noon when the House first convened until the early hours of Saturday morning when the 15th round concluded, the chamber spent 24 hours and 12 minutes in session trying to elect a speaker.
The longest day was Thursday, when the House took four votes that spanned 8 hours and six minutes.
During the process, each vote took about an hour, plus the time to count and reconfigure between votes.
The second longest day of voting was Friday, into Saturday, which took 6 hours and 17 minutes.
Jeffries thanks Democrats for 'unanimous support'
Democratic Leader Hakeem Jeffries delivered a speech praising Democrats' prior control of the House before ceremoniously handing the gavel to McCarthy.
Jeffries thanked Democrats for unanimously backing him in each successive vote for speaker. "That showing of strength isn't for any one individual, it'll be a showing of strength for the 118th Congress," Jeffries said, seeming to jab at the Republicans for their division.
The late-night speech drew the ire of some Republicans, who began chanting "Kevin."
Biden congratulates McCarthy, says he's prepared to work with House GOP
President Joe Biden offered his congratulations to McCarthy early Saturday morning.
"As I said after the midterms, I am prepared to work with Republicans when I can and voters made clear that they expect Republicans to be prepared to work with me as well. Now that the leadership of the House of Representatives has been decided it is time for that process to begin," Biden said.
He added: "This is a time to govern responsibly and to ensure that we're putting the interests of American families first."
How McCarthy got the speaker votes — and why it could haunt him
After four days of deadlock and embarrassing defeats not seen in a century, House Speaker-elect Kevin McCarthy carved out a path to placate a faction of rebels and secure the job, with promises that could come back to haunt him.
McCarthy flipped 14 of his holdouts and convinced the rest to stand down, and was elected as the 53rd speaker of the House on the 15th ballot on Saturday after overcoming a last-minute wrench that scuttled his best-laid plans on the previous ballot. In doing so, he made a series of concessions that weaken the power of his office and expand the clout of far-right members of the House Republican conference, which critics say could complicate his job of governing under the wafer-thin majority.
McCarthy and his allies sensed they were on the verge of a breakthrough on Thursday night after Rep. French Hill, R-Ark., and others tapped by the now-speaker-elect met with a group of right-wing holdouts — including Reps. Scott Perry of Pennsylvania, Chip Roy of Texas and Byron Donalds of Florida. The mutiny was led by members of the far-right House Freedom Caucus, which is known for wielding raw power and a high tolerance for chaos to force House GOP leaders to bend to their wishes.
McCarthy's team presented them with a "framework" of House rules changes and other promises that would appease the group — and ultimately prompt six others to vote "present," a crucial move that lowered the threshold and paved the way for him to succeed.
Trump congratulates McCarthy after 'crazy' process
Trump backed McCarthy's speaker bid, but it was some of the former president's most ardent supporters who blocked him for 14 rounds of voting.
Trump didn't seem to hold it against them.
"The 'Speaker' selection process, as crazy as it may seem, has made it all much bigger and more important than if done the more conventional way," Trump wrote on his social media website Truth Social. "Congratulations to Kevin McCarthy and our GREAT Republican Party."
Coming up: Swearing in the member-elects
Once McCarthy is sworn in as speaker, the House will swear-in member-elects early Saturday morning, according to a notice sent out from Whip Tom Emmer to all GOP offices and obtained by NBC News.
A vote on the rules package will be postponed until Monday, according to the notice.
Final tally: McCarthy wins with 216 votes
The final tally in the 15th speaker vote was 216 for McCarthy, 212 for Jeffries and six members voting present.
McCarthy elected speaker in 15th round
McCarthy was elected House speaker Saturday shortly after midnight on the 15th ballot.
His win was met with sustained applause and came after four straight days of voting for a new speaker. It also followed a tense and chaotic 14th round where McCarthy fell one vote short of securing the gavel.
McCarthy's bid had been blocked in earlier rounds by 20 Republicans who opposed him, but after numerous negotiations, enough conservatives changed their position to give him the job he'd long sought.
The speaker selection process ended up being the fifth longest, by number of vote rounds, in U.S. history. It had been tied with the 1821 speaker election until the 12th round. Number four on the list, the 1820 speaker election, went to 22 ballots.
Why the scuffle on the House floor?
When Rep. Mike Rogers, R-Ala., had to be physically restrained from going after Rep. Matt Gaetz, R-Fla., he was frustrated because Gaetz had been holding out for a subcommittee gavel on the Armed Services Committee, according to a person familiar with the situation.
Rogers is poised to chair the full committee. Gaetz voted "present" again on the 15th ballot, which with other present votes could secure the speakership for Kevin McCarthy.
Reps. Andy Biggs, Eli Crane vote present
Reps. Andy Biggs, R-Ariz., and Eli Crane, R-Ariz., who consistently voted against McCarthy on all previous ballots, voted present on the 15th ballot.
Marjorie Taylor Greene appears to have Trump on the phone on the House floor
As chaos erupted following the 14th floor, Rep. Marjorie Taylor Greene appeared to be holding up a phone with former President Donald Trump on the line.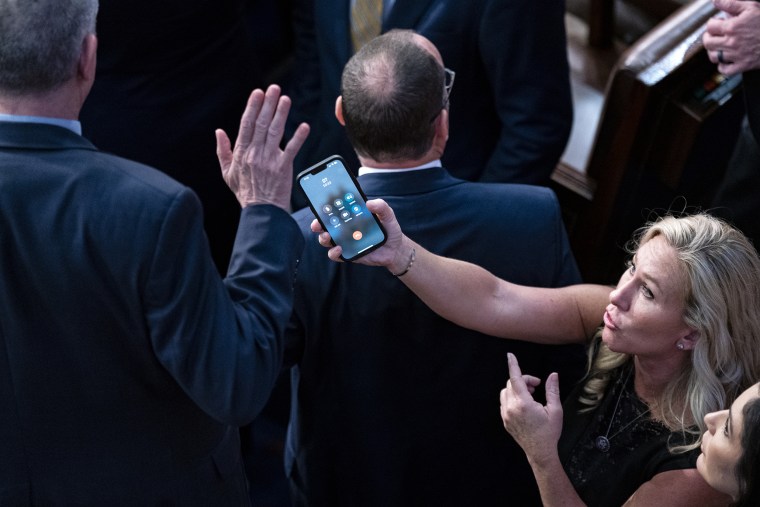 15th round of voting begins
The House has begun voting for the 15th time for speaker.
Before nominating Jeffries, Phillips reacts to GOP chaos: 'I rise to say, wow'
Rep. Dean Phillips, D-Minn., began his nominating speech for Rep. Hakeem Jeffries, D-N.Y., saying, "I rise to say, wow."
Republicans laughed at the comment and applauded. Phillips then urged six Republicans to vote Jeffries for speaker to "end this nonsense."
'One more time, one more time!': Lawmakers chant before 15th ballot vote
There were chants of "one more time" on the House floor from lawmakers as the tallied up the votes on the motion to adjourn.
The votes fell short after many Republicans changed their vote to "no," prompting a 15th ballot for speaker.
Photo: Republicans confront Gaetz after McCarthy loses 14th round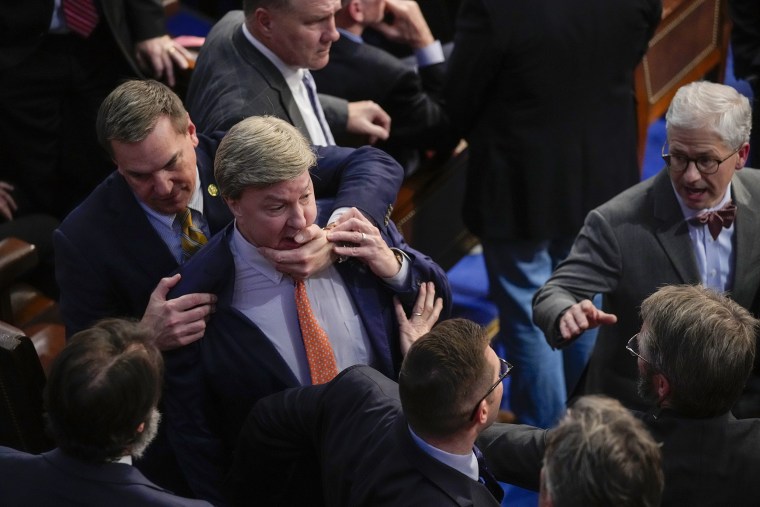 Gaetz votes against motion to adjourn, McCarthy switches his vote to 'no,' too
During the roll call vote on a motion to adjourn until Monday, it was becoming clear that it was going to fail because several Republicans were opposed.
Then, Gaetz went to the dais and voted against adjourning and then went to McCarthy and they shook hands. Suddenly, McCarthy switched his vote to also oppose the motion that his own ally brought to the floor.
A number of Republicans then began to follow McCarthy's lead in switching their votes.
The House appears headed to a 15th vote.
McHenry offers motion to adjourn until Monday at noon; roll call vote requested
After the clerk announced that no one received enough votes to secure the speaker's gavel on the 14th ballot, Rep. Patrick McHenry, R-N.C., offered a motion to adjourn until noon on Monday.
A roll call vote was requested after more members called out against the motion.
Chart: How the GOP hold-outs voted in the 14th ballot
GOP lawmaker appears to lunge at Gaetz in remarkable moment on House floor
After Gaetz voted present — leading to uncertainty over the outcome of the 14th ballot for speaker late Friday night before it was officially announced that McCarthy had lost — McCarthy approached Gaetz in the back of the chamber.
A tense back and forth ensued, while a number of Republican lawmakers began to crowd them. Rep. Mike Rogers, R-Ala., appeared to lunge in the direction of where Gaetz was sitting, but was held back by other members.
Rep. Richard Hudson, R-N.C., was seen grabbing Rogers around the mouth; Rogers immediately left for the cloak room to cool off.
It's unclear what the disagreement or argument was about and what prompted Rogers to become heated.
Kevin McCarthy loses 14th round of House speaker voting, a blow after having signaled confidence
Kevin McCarthy lost the 14th round of House speaker voting, delivering a blow after having signaled confidence he had persuaded enough hard-liners.
Uncertainty hangs over the House floor
McCarthy began the 14th round of votes appearing confident he had mustered the support that he needed to be elected speaker.
But at the end of the tally, Matt Gaetz cast his vote as "present," which appeared to have left McCarthy short the votes he needs to be speaker.
The tallying of the votes continues and the official totals haven't been announced.
Gaetz votes present, and a discussion with McCarthy ensues
Rep. Matt Gaetz, R-Fla., voted present.
Gaetz had opposed McCarthy throughout all previous ballot votes this week. McCarthy walked over to where Gaetz was seated after he cast his present vote and they were seen in an intense back and forth.
Rep. Wesley Hunt receives standing ovation after flying back to vote for McCarthy
Rep. Wesley Hunt, R-Texas, received a standing ovation after casting his vote for McCarthy on the 14th ballot after he flew back to Washington on Friday.
Hunt had been at home in Texas to be with his wife and his son, who was recently born prematurely. After Hunt voted, McCarthy walked over and thanked him.
Boebert votes present
Rep. Lauren Boebert, R-Colo., voted present on the 14th ballot for speaker after consistently voting against McCarthy over the last four days.
Her vote benefits McCarthy in his bid for speaker by lowering the threshold of votes he needs to win.
House reconvenes to hold 14th round of speaker votes
The House has reconvened to begin the 14th round of speaker votes.
Boebert and Gaetz indicate GOP may be nearing finish line in speaker's race
GOP Reps. Matt Gaetz of Florida and Lauren Boebert of Colorado, two of McCarthy's most outspoken detractors, indicated Friday night that Republicans might be nearing the finish line in the House speaker's race.
During a Fox News interview, the pair of Republican lawmakers softened their criticism of McCarthy and signaled light at the end of the tunnel in a stalemate that's now in its fourth day.
Gaetz told Sean Hannity that while "a few finishing touches" may be needed, he was "excited and encouraged" by McCarthy's receptiveness in the negotiations, a strikingly different tone from his remarks about the California Republican just a day ago.
"We may be able to get this resolved tonight," Gaetz added.
Asked whether a speaker is likely to be elected after the House reconvenes at 10 p.m., Boebert said: "We'll see how tonight goes."
"I think that there are some things that we need to get locked in," she added.
Boxes of Five Guys delivered to McCarthy's office
Nearly a dozen large boxes from Five Guys were delivered to McCarthy's office Friday around 7:30 p.m. ahead of a potentially long night of floor action.
Republicans planning for swearing-in and votes on House rules package tonight if speaker is chosen
Rep. Tom Emmer, a Minnesota Republican and member of GOP leadership, notified colleagues that if a new speaker is chosen Friday night, the chamber will immediately swear-in lawmakers and vote on a measure setting House rules for the 118th Congress.
In his notice, Emmer laid out the planned House agenda after it reconvenes at 10 p.m. ET.
Lawmakers should be be prepared to wrap up floor business as late as 3 a.m., assuming a speaker is chosen not long after reconvening, according to Emmer.
How one state broke through its House speaker logjam as Washington remains stuck
Faced with a razor-thin divide in the legislature, lawmakers quickly and unexpectedly coalesced around a surprising compromise pick for speaker this week that, when boosted by more than a dozen members of the opposition party, secured a solution that few thought would be possible so quickly.
Obviously, this is not a story about Washington, D.C., where Rep. Kevin McCarthy's unsuccessful — and still ongoing — attempt to become speaker will go down in history.
This is a story about Pennsylvania, where Democratic lawmakers, faced with a deadlock Tuesday, backed state Rep. Mark Rozzi, a moderate rank-and-file member of their party few expected to rise in this moment. Rozzi pledged he would operate as an independent, drawing 16 Republican votes to get him over the top.
But Pennsylvania lawmakers say there are some lessons U.S. House Republicans can take from their contested speaker race — namely, that the best deal might be with those across the aisle rather than those in your party's far flank. These lawmakers argue that a real compromise, however, will likely leave everyone feeling a bit shorted. And that's a good thing.
National Security Council spokesman says intel officials have ways to communicate with lawmakers amid speaker stalemate
The White House has mechanisms to communicate with pertinent lawmakers while the House remains deadlocked in the speaker's race, White House National Security Council spokesman John Kirby said Friday.
"We have vehicles to continue to communicate with both chambers of Congress, and that communication will continue throughout the foreseeable future," Kirby said at a White House press briefing.
"We're confident that we can continue to defend the United States of America while House Republicans are working their way through this process," Kirby said.
Several lawmakers have raised concerns over the national security impact of the stalled speaker's race. Rep. Mike Gallagher, R-Wis., said a meeting with Rep. Don Bacon, R-Neb., scheduled to take place in the secure room known as the sensitive compartmented information facility with the chairman of the Joint Chiefs had to be canceled since the lawmakers hadn't yet been sworn in as members of the 118th Congress.
House has spent 21 hours, 34 minutes in deadlocked speaker's race
After the House voted to adjourn until 10 p.m. Friday night, its members had spent 21 hours, 34 minutes on the floor in failed efforts to elect a speaker.
The total is up three hours, 39 minutes from the nearly 18 hours spent between Tuesday and Thursday.
Chart: How many multiple-ballot elections there have been
Of the more than 50 speakers of the House, 15 have been in McCarthy's situation: needing multiple elections to win the gavel.
Read the rest of the story, The House speaker election, in three charts.
Gaetz appears to concede McCarthy could win speaker's gavel
Rep. Matt Gaetz, R-Fla., a key McCarthy holdout, appeared to concede Friday afternoon that the GOP leader could win the speaker's gavel.
"I think the House is in a lot better place with some of the work that's been done to democratize power out of the speakership and that's our goal," said Gaetz, who had been huddling on the House floor with another McCarthy detractor: Rep. Lauren Boebert, R-Colo.
McCarthy expresses confidence he'll 'finish this once and for all' Friday night
McCarthy expressed confidence Friday afternoon that when the House reconvenes at 10 p.m. ET, he will have secured enough support to be elected speaker.
"I think you saw we made some very good progress. We'll come back tonight. I think at that time we'll have the votes to finish this once and for all," the California Republican told reporters.
"It just reminds me of what my father always told me: It's not how you start, it's how you finish. And now we have to finish for the American public," he continued. "This is the great party. Because it took this long, now we know how to govern so now we'll be able to get the job done. Thank you all very much."
House adjourns until 10 p.m. ET
The House adjourns until 10 p.m. ET Friday. Republicans are hoping to return with enough votes to elect McCarthy as speaker.
House voting on a motion to adjourn until 10 p.m. ET
The House is voting on a motion to adjourn until 10 p.m. ET, when two additional McCarthy allies are expected to return to Washington.
Key Republican describes three components of 'framework' agreement with McCarthy
Rep. Scott Perry, R-Pa., the chair of the Freedom Caucus, said there are three core components of the "framework of an agreement" that prompted a group of right-wing holdouts to vote for McCarthy on Friday.
First, it would include changes to "motion to vacate" the speaker's chair, making it easier for members to mount a challenge to him or her.
Second, it overhauls the process of "spending and how we allocate the taxpayers' money" with "broad changes," he said.
And third, it assures "conservative representation that represents the face of America across the entire body, not just put in certain pockets."
Perry insisted that if the framework falls though, he will switch his vote back to "no" and move to sink McCarthy.
"We have a framework of an agreement. If the framework blows up, I'm out," he told reporters.
Unlucky 13 for McCarthy as speaker bid again falls short
The thirteenth time wasn't the charm for McCarthy as he failed to garner enough votes to become speaker — but he did inch closer to his goal.
McCarthy held on to the 14 Republican votes that had switched to him in the 12th round of voting, and added one other — Rep. Andy Harris of Maryland.
Six Republicans still voted for another candidate — Rep. Jim Jordan, who nominated McCarthy for the job on Tuesday.
Rep. David Trone gets standing ovation after returning to vote after surgery
Rep. David Trone, D-Md., received a standing ovation and cheers when he cast his vote for Rep. Hakeem Jeffries, D-N.Y., during the 13th ballot vote Friday.
He returned to the Capitol in the afternoon after undergoing surgery in the morning. He arrived with his arm in a sling and still in his hospital socks, wearing slippers.
McCarthy falls short again
On the 13th round, McCarthy still couldn't muster the votes needed to be elected speaker.
https://www.nbcnews.com/politics/congress/live-blog/house-speaker-vote-mccarthy-fourth-day-live-updates-rcna64549 McCarthy bid heads into the Day 4