Ohio
OHIO students work together to earn first place in Baja car design competition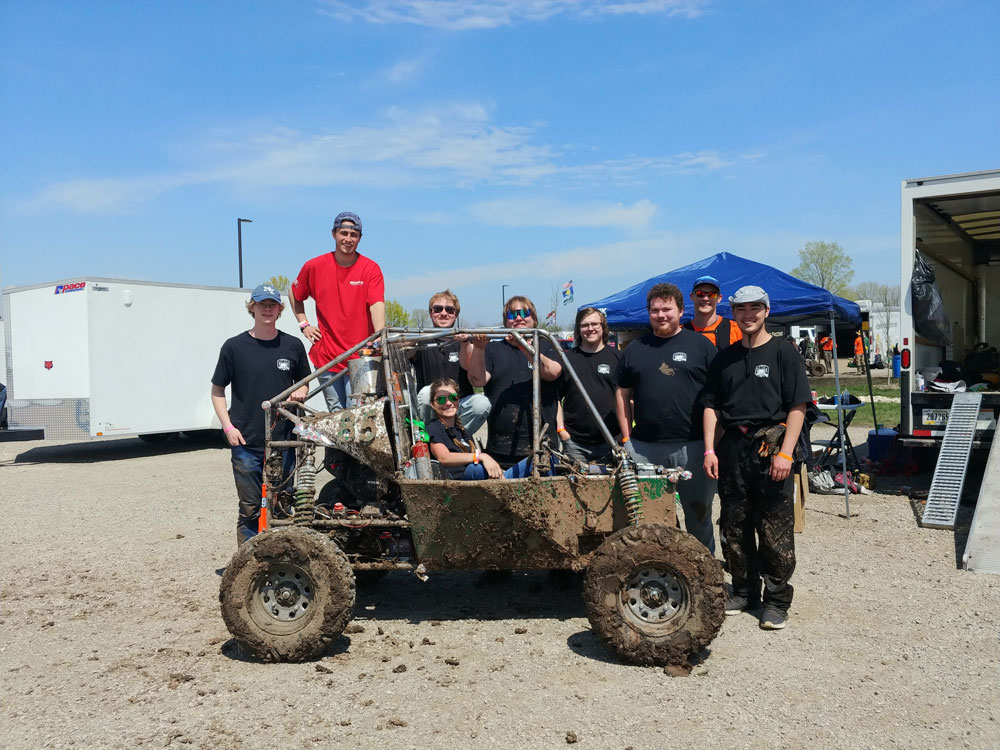 For engineering students, designing and building an off-road vehicle is not only an opportunity to implement skills they have learned in the classroom, but also a chance to collaborate and compete as a team in the Society of Automotive Engineers (SAE) Baja competition.  
Baja cars are off-road vehicles, resembling dune buggies, that are challenged in a series of events to test their strength, speed, acceleration, maneuverability and design. Ohio University mechanical engineering students, Linda Becerra, Dan Bridavsky, Ian Gant, Zach Glomb, Sam Kennedy, Cheosung O'Brien, Alec Sebrell and Jesse Yochens, worked together to build a vehicle and compete in the SAE Baja competition in Oshkosh, Wisconsin in May 2023.  
"The Baja competition is an opportunity for students worldwide to showcase the hard work they put into designing, building, testing, and refining their Baja vehicles. Our team had the excellent opportunity to diagnose problems, work as an effective team, and compete alongside 88 schools from around the country," Cheosung O'Brien, first year Ph.D. student in mechanical engineering, said.  
"While everybody is trying to place well in the competition and build the best car, the focus really is on growing, and not just as a team or as an individual, but it includes everybody who attends," Alec Sebrell, second year electrical engineering student, said.  
The OHIO team passed their technical inspection, placed 46th in acceleration, 22nd in suspension, 17th in maneuverability, 43rd in endurance and first in the sled pull. In addition to showcasing their own teamwork, they were also able to assist four other teams at the competition. Their success was not without challenges and hard work throughout the year though.  
Two students worked diligently to develop the frame for the vehicle, researching and testing various materials before landing on using Docol R8 tubing. Using inspiration from other teams, they virtually modeled their frame to ensure that the driver of the vehicle would remain safe in the event of an accident.  
"All said and done, we ended with a safe frame that we could apply any suspension and drive system to.  At the competition, we learned that Ohio University was the first team to use Docol as the frame material and our ingenuity was rewarded with a rule change for the 2024 season," O'Brien said.  
The SAE Baja competition is an excellent opportunity for mechanical engineering students to apply the theoretical skills they learned in the classroom to a real-life application. 
"Getting involved in organizations that foster experiential learning allows students to really see what it's like to work on a team of people who are passionate about the project and build relationships that otherwise would not have happened," O'Brien said.  
 
"If we did not have experiential learning available through projects like this, many students would find themselves unprepared for a career. Experiential learning is the most important aspect of being an engineer. There are so many physical principles that something as simple as turning a wrench can engrave in someone's mind. It is difficult to engineer a high quality, well thought out project if you do not have experience using or fixing similar devices," Ian Gant, fifth year electrical engineering student, said.  
While this competition is an opportunity for students to engage in experiential learning, for some students, it is a direct steppingstone in their future career paths. For example, O'Brien grew up going to the racetrack with his dad and always knew that he wanted to pursue a career alongside an automotive performance team. For others, the competition was an opportunity for them to learn about the engineering profession more broadly. 
 
"During this process I learned a lot about how engineering actually works. It's one thing to know how to make a CAD model but it's another thing to know how to communicate effectively with a team so that the CAD model is accurate and that the part fits on the first try," Sebrell said.  
The OHIO team plans to improve upon their design and continue to compete with their vehicle at the SAE Baja competition in September 2023 in Nashport, Ohio.  
https://www.ohio.edu/news/2023/08/ohio-students-work-together-earn-first-place-baja-car-design-competition OHIO students work together to earn first place in Baja car design competition