Ohio
Power outages in Northeast Ohio: FirstEnergy updates Cleveland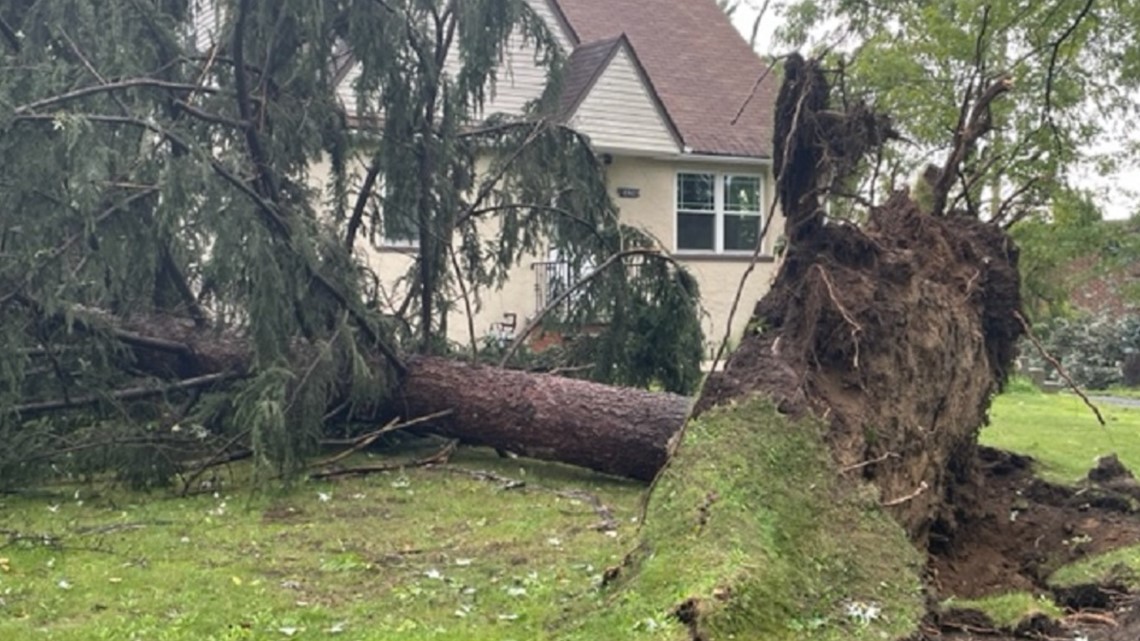 The National Weather Service has confirmed that six tornadoes touched down in Northern Ohio on Thursday night into Friday morning.
CLEVELAND — A second dose of severe weather that hit Northeast Ohio late Thursday and into Friday has caused hundreds of thousands of power outages throughout the area.
Here are the current power outages reported by FirstEnergy as of 11:15 a.m. on Saturday:
Cuyahoga: 23,125 outages
Geauga: 9,301 outages
Lake: 12,395 outages
Lorain: 1,693 outages
Mahoning: 2,901 outages
Portage: 10,835 outages
Summit: 4,984 outages
Trumbull: 2,768 outages
So how long will it take for these outages to be restored? The stark reality, according to FirstEnergy spokesperson Lauren Siburkis, is that the damage is so significant that some customers may be in the dark for nearly a week.
"We do expect to have many customers without power through Wednesday," she told 3News' Neil Fischer on Friday evening. 
Siburkis says that FirstEnergy crews dealt with clearing hazards on Friday, in order to get to the impacted areas. Meanwhile, reinforcements have been called in for support. 
"We have contractor crews assisting with our crews and we are planning to secure additional resources from our sister utilities and other less-impacted utilities so that we can speed our restoration here in Northeast Ohio," she added.
Here's a closer look at some of the other impacts reported across Northeast Ohio…
Saturday 
North Olmsted police confirmed that the intersection of Butternut, Porter and Lorain, where the roof of the Pinball Shoppe collapsed has now opened. 
The National Weather Service has confirmed a sixth tornado touchdown in Northeast Ohio, in Medina County. 
Friday
The tornado had estimated peak winds of 90 miles per hour. No injuries were reported.
A fourth tornado touchdown in Northern Ohio has been confirmed by the National Weather Service. 
According to the NWS, the EF-0 tornado occurred in Bristolville, beginning at 12:35 a.m. just east of Mahan Denman Road on Hyde Shaffer Road where large tree branches were snapped. The tornado then headed east, damaging corn fields and additional trees before it crossed Thompson Clark Road. 
Multiple homes sustained minor damage to siding, shingles, and roofing and one home had the car port collapse. The tornado finally ended near North Park Avenue at around 12:37 a.m. No injuries were reported. 
The NWS reports that the tornado began just west of Dartmoor Road near Mentor Avenue at around 12:04 a.m. The tornado worked its way east, downing numerous large trees and damaging homes. Extensive tree damage continued east across the Great Lakes Mall property, before the tornado shifted northeast and caused additional tree and power line damage near the intersection of Johnnycake Ridge Road and Fairview Avenue. The tornado ended just south of Donald E. Kruger Park. 
The tornado reached peak winds of 110 miles per hour. 
Cuyahoga County officials say the storms caused damage to the Justice Center Complex and surrounding areas as listed below…
Courthouse Tower, 13th Floor, Cleveland Municipal Court Judge Marilyn Cassidy: window blown out, ceiling and water damage
Tower II: three windows blown out on ninth floor in City Police Chief's Office
Atrium: window blown out
City Clerk's Office: window blown out on third floor
Old Courthouse: Tree limb blew through second floor window
"The Justice Center Complex remains open for business," officials said in a press release. "No court or jail operations have been affected. Visitors and employees are being asked to enter through the Lakeside Avenue entrance. The Ontario Street entrance is closed at this time."
3News viewers are sharing pictures of the impact the storm had on their neighborhoods. 
PHOTOS | Damage from severe weather across Northeast Ohio
Building collapse on Miles Road in Warrensville Heights
State Route 94 at Wilber Road in Medina County is closed due to down utility lines
3News crews found a building destroyed on Commerce Parkway in Warrensville Heights.
Wednesday-Thursday
Cuyahoga County
"Upon their arrival, the Lakewood Fire Department, the Westshore Swift Water Rescue Team and the Westlake Fire Department removed a total of 10 people from seven different vehicles that were stuck in the water," according to Lakewood police. "The highway was shut down in both directions between Warren Rd and McKinley Ave until the water receded."
The roadway reopened around 1:30 a.m. Thursday.
There were no injuries reported.
In Parma, firefighters helped deal with flash flooding in the area of West 52nd and Brookpark Road. Officials tell 3News that no one was injured and all occupants were removed from their vehicles without incident. 
"A major water main break on Snow Road west of State Road requires the street to be shut down to one lane of traffic each way. Residents should avoid this area if possible."
Although much of the focus of flooding problems on the interstates centered on I-90 in Lakewood, our Bri Buckley spoke to a driver who had issues on I-480 in Brooklyn.
 "It was basically like a little lake on the freeway entry," said Julian Ayzman.
Ayzman said he was leaving dinner and got caught in the flooding at the Ridge Road on ramp to I-480.
"I was a little bit concerned but we sat there for a few minutes to decide if we would make it through, we saw some other cars go and some didn't so we made the decision to go through," Ayzman said.
You can see more on interstate flooding in Buckley's report below. 
Over in North Olmsted, 3News also captured the video of a collapsed roof at the Pinball Shoppe.
Erie County
The city of Sandusky posted this update on Thursday afternoon after advising residents to stay off the streets earlier in the day. 
The Sandusky Fire Department sent us a photo of first responders rescuing a stranded motorist from floodwaters on Columbus Avenue. Crews were assisted in the rescue by Mosser Construction employees.
Lake County
The Lake County Sheriff's Office reported that Route 2 was flooded on both sides between Lost Nation Rd and Vine Street in Willoughby.
Also, Bishop Road in Willoughby Hills was closed at Curtiss Wright Parkway to Golf Way Lane in Highland Heights due to high water. 
Lorain County
A travel ban has been lifted in Wellington after heavy flooding on Wednesday evening. The village's mayor, Hans Schneider, gave this update:  "Travel within the Village is back open. Exercise caution as you make your way this morning outside the Village. There are multiple side road closures – please respect those closures. Watch for standing water in areas and be cautious with your speed to avoid hydroplaning. Some areas have downed trees/branches."
Our photojournalist Mark Smilor saw evidence of the standing water in Wellington on Route 18 on Thursday.
The Lorain County Fair, located in Wellington, shut down on Thursday due to the flooding from the storms. 
PHOTOS | Flooding at the Lorain County Fair
ODOT also announced the following road closures that remain in effect as of 7:35 a.m. Thursday:
SR 18 between SR 511 and Quarry Road
SR 18 between West Road and Hawley Road
SR 303 between Pitts Road and Quarry Road
"In addition to the closures, there are multiple roads with high water," ODOT says. "Please be sure to give yourself extra time for travel this morning."
More from 3News:


https://www.wkyc.com/article/weather/severe-weather/severe-storms-cause-power-outages-flooded-roads-northeast-ohio/95-794e8e2d-121a-4a02-bd46-fdea30afb975 Power outages in Northeast Ohio: FirstEnergy updates Cleveland