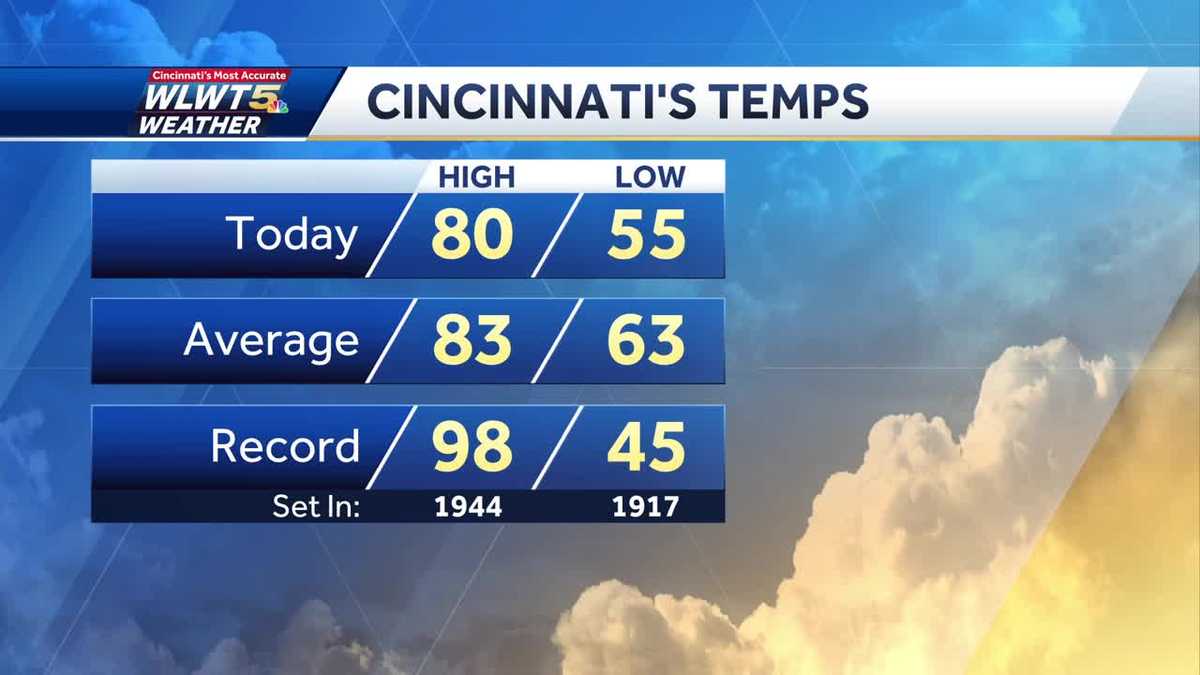 Of course, there were many dry hours, with temperatures of 80°C, only a few degrees below the average mid-June high of 83°C. This was after a relatively cool but comfortable 55 degree start. And right now is fine. The high was 80 degrees, and although the temperature has started to drop here, it still remains at 69 degrees in and around Cincinnati. But back here in the middle of nowhere, far west, Batesville is now a town in the late '50s, Mount Auburn at his 63rd. Same goes for Georgetown. And I think a lot of places will hit lows in the high 50s overnight, maybe in the mid 50s here. So, looking at the upcoming weather forecast, temperatures here will change a lot during the next week's work. If it's within a few degrees of June's average temperature, it's even colder. That said, most days in the early to mid-80s had multiple days with a chance of rain, but it doesn't seem like any of those days would be completely rainy. Rather, showers and thunderstorms are possible. Heading into Father's Day departure early tomorrow morning, here's the upcoming cast: The outer areas will be dry and beautiful with a beautiful sunrise, although perhaps a little patchy fog. I often think that tomorrow I have work in the morning and I'm going out to lunch, so it's almost full sun here, things are still dry and it's going to get warmer soon. If you go out for a long time, don't forget the sunscreen. After sunset tomorrow evening, we'll see increasing clouds from the west or southwest before a wet area located in parts of western Kentucky. So tonight our position is generally clear skies with just a few specks. Otherwise, the city is well lit and the air temperatures drop to the high 50s, so nights are relatively pleasant. But I certainly think it could be in the mid-50s in the suburbs. And as we head into tomorrow's day, the 86 is again commonly touted as being in the mid-'80s, even though the wind is still very light at this time of year. It can be a little hazy at times, as smoke occurs in the middle layers of the atmosphere. Some of those clouds will have lower levels later in the day. The long-term forecast looks like this: Monday will see occasional showers with a chance of thunderstorms. I am washing out all day long. Expect more of the same on Tuesdays and Wednesdays, which are best suited for the upcoming wet weather, as we build up daytime heating. As such, the chances of a few showers and warm thunderstorms are mostly in the afternoon and evening types of days. And heading into next weekend, the same will be true here. But again, note that these times don't really change much for the most part.
Sunday will be sunny with a maximum temperature of 80 degrees.
Sunday will be sunny with a maximum temperature of 80 degrees.
https://www.wlwt.com/article/sunny-for-father-s-day/44237899 sunny father's day