Ohio
Suspect fatally shot by troopers in Ohio hostage incident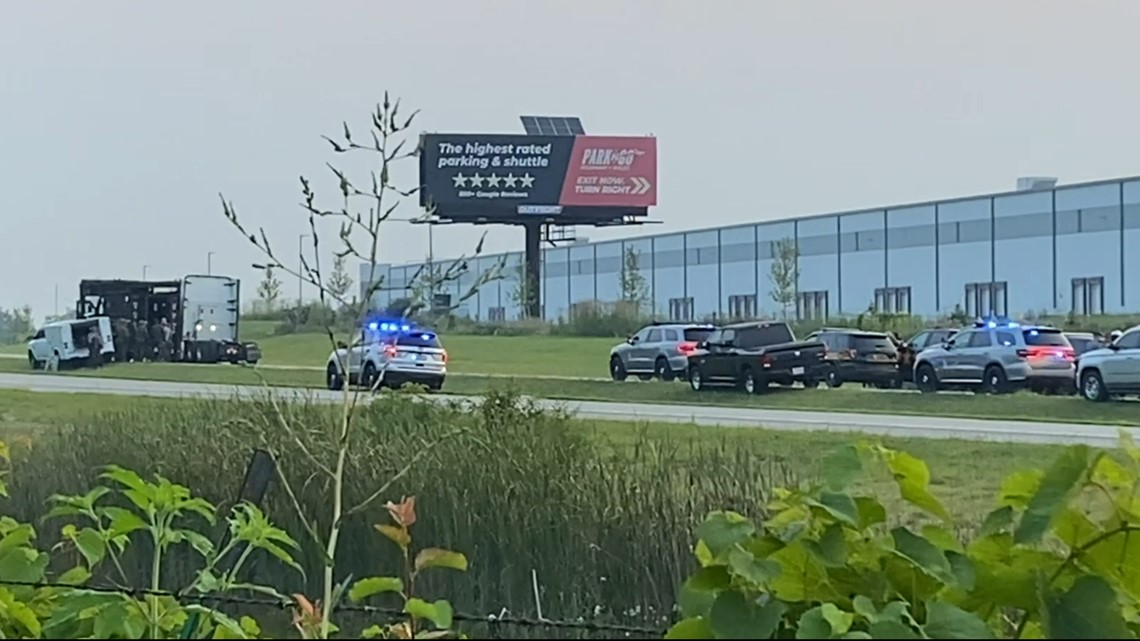 The truck driver who was taken hostage during the incident was treated for minor injuries.
OHIO, USA — Two suspects who police say stole a semitruck in Madison County on Wednesday were fatally shot by state troopers during an hourslong hostage standoff.
The London Police Department said an officer attempted a traffic stop on a van around 1 a.m. on Lafayette Street for not having taillights and a visible registration. Police Chief Glenn Nicol said the driver provided the officer with false information and drove from the scene down state Route 42. 
Nicol said that the suspect vehicle stopped at the BP gas station at TA Travel Center on state Route 42. A 54-year-old man and a 51-year-old woman left the vehicle and ran across the parking lot.
An officer chased the suspects on foot and attempted to deploy a stun gun. Meanwhile, police said the man fell and pointed a handgun at the officer. Nicol said the man did not fire his weapon, but a live round was found at the truck stop. 
Nichol said the suspects went into an unlocked semitruck with the truck driver inside the vehicle. The truck left the parking lot and struck a London police cruiser. No officers were injured. 
Police said officers and troopers with the Ohio State Highway Patrol pursued the semi through multiple counties, including Clark and Green counties. Authorities attempted to deploy stop sticks during the chase. 
OSHP Lt. Nathan Dennis said the chase ended just before 3:30 a.m. at Interstate 70 near Dayton International Airport Access Road in Montgomery County.
A standoff lasted for more than five hours while negotiating with the suspects and the truck driver, who was taken hostage during the incident.
Around 7:30 a.m., members of the OSHP Special Response Team approached the front of the truck to attempt to remove the truck driver from the vehicle. While troopers were approaching the truck, Dennis said one of the suspects fired shots at officers. Police returned fire, striking both suspects at least once.  
Dennis said the truck driver left the vehicle and was guided by troopers away from the scene.  The truck driver was taken to Miami Valley Hospital to be treated for minor injuries. It is not clear if he was struck by gunfire. 
Authorities arrested both suspects, who were also taken to Miami Valley Hospital. Dennis said the woman succumbed to her injuries and was pronounced dead at the hospital.
The man was hospitalized with life-threatening injuries. He was later pronounced dead at the hospital.
No officers were injured in the shooting. 
The Ohio Bureau of Criminal Investigation is investigating the shooting.
https://www.wtol.com/article/news/crime/hostage-situation-stolen-semi/530-ef9f159c-caca-46fa-98f6-5c06e5f4baf0 Suspect fatally shot by troopers in Ohio hostage incident