Ohio
Trump pleads not guilty to all charges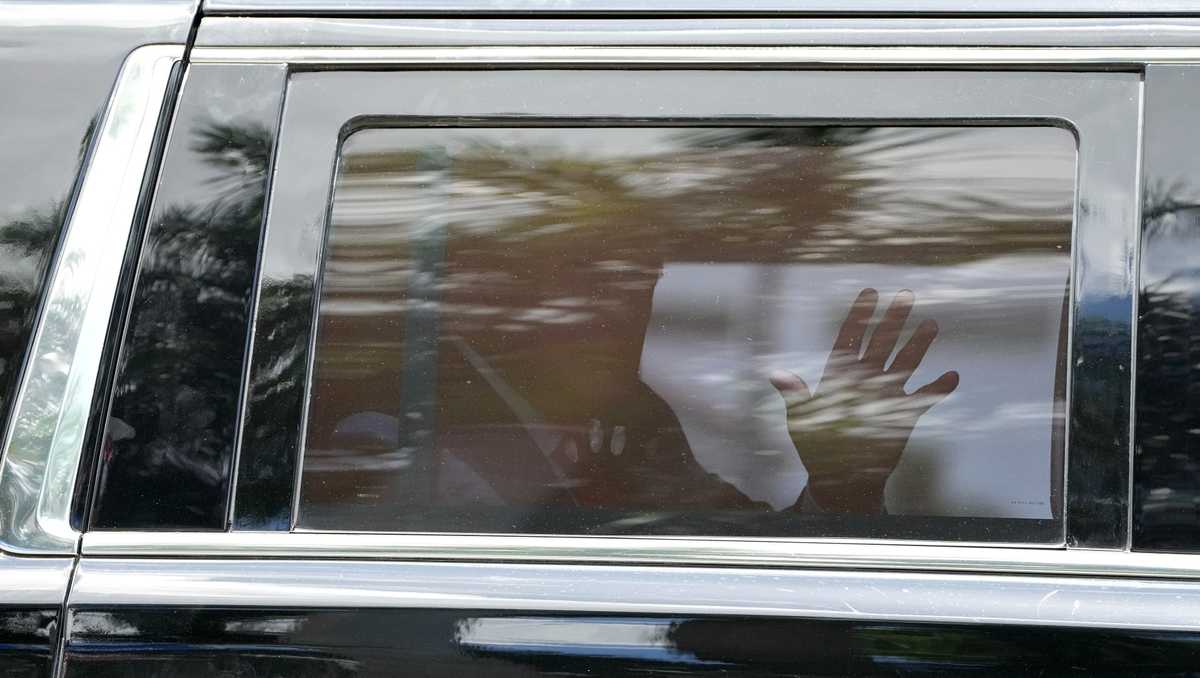 Former President Donald Trump pleaded not guilty to all 37 federal charges Tuesday afternoon after being arraigned for illegally hoarding classified documents at his Mar-a-Lago estate in Florida.Warning: The live video above may contain graphic or offensive content. Viewer discretion is advised.Trump is the first former president in U.S. history to face criminal charges by the federal government he once oversaw.What to know: Trump has pleaded not guilty to all 37 charges, according to CNNA mugshot is not expected to be taken of TrumpTrump is expected to be digitally fingerprintedSupporters and detractors of Trump are demonstrating outside the Miami courthouseLive updates of the historic arraignment are below:3:05 p.m. ETCNN is reporting that former President Donald Trump has pleaded not guilty to all 37 charges.2:50 p.m. ETFormer President Donald Trump has entered the courtroom before a Florida magistrate judge where he is expected to enter a plea to the 37 criminal charges he faces, CNN reports.The booking process took about 10 minutes, during which his co-defendant, Walt Nauta, did have a mugshot taken, according to CNN.Special counsel Jack Smith is attending the arraignment of former President Donald Trump in Miami, Florida.2:30 p.m. ETTrump rode to court with his son Eric, who accompanied the motorcade from the former president's Doral resort to the federal courthouse in Miami.CNN aired footage of Trump walking to a line of SUVs with his son by his side while someone yelled, "Let's go Trump!"The former president could be seen stopping and waving at supporters, as well as chatting with staff members. Eric Trump appeared to clap his father on the back just before he climbed into a vehicle.Video below: Trump motorcade heads to Miami courtroom to face federal chargesAs he rode to court, Trump posted on his social media site that the case against him was a "witch hunt."Later, outside the courthouse Trump's lawyer Alina Habba said, "Today is not about President Donald J. Trump, who is defiant.""It is not about the Republican Party, it is not about the 2024 election," Habba added. "It is about the destruction of longstanding principles that have set this country apart."2:15 p.m. ETTrump and an aide charged as a co-conspirator have been booked in Miami federal court.That's according to the U.S. Marshals Service, which said Trump and Walt Nauta had been booked shortly after they arrived Tuesday afternoon.Both men are expected to appear at the defense table shortly on charges that they wrongly held onto classified documents.The two men were seen arriving at court together.1:50 p.m. ET Trump has arrived at the federal courthouse in Miami to formally surrender to authorities ahead of his court appearance on charges accusing him of illegally hoarding classified documents at his Mar-a-Lago estate in Florida.Trump's motorcade arrived Tuesday afternoon at the courthouse shortly before he's scheduled to appear before a magistrate judge, a stunning moment in American history days after he became the first former president charged with federal crimes.Video below: Trump motorcade heads to Miami courtroom to face federal chargesIt's the second criminal case Trump is facing as he seeks to reclaim the White House in 2024. He's also accused in New York state court of falsifying business records related to hush-money payments made during the 2016 campaign.Trump has denied any wrongdoing, saying he's being unfairly targeted by political opponents who want to hurt his campaign. After his court appearance, Trump will return to New Jersey, where he's expected to hold a press event to publicly respond to the charges.1:30 p.m. ETDonald Trump's motorcade is currently en route to the Miami federal courthouse from his residence in Doral, Florida.1:15 p.m. ETAbout four dozen Trump supporters dressed in red, white and blue clothing were bussed in to Miami from Orlando to show their support outside the federal courthouse where the former president would be appearing, the AP reports.Some wore T-shirts that read "Donald Trump Did Nothing Wrong" and hats stenciled with "Because America Can Never Be Too Great.""He has done so much for us. This what we can do for him. This is what we must do for him," said Laurie Pettengill, who drove halfway across the state from Homosassa Springs on Florida's Gulf Coast to go on the trip.Video below: Other protesters outside Doral ahead of Trump arraignment Miriam Ramirez carried a sign adorned with small American flags that said, "Puerto Republican Assembly Present for Trump!" She said the federal charges were a continuation of prosecutorial harassment that Trump has faced for years."This has been going on ever since he became president," Ramirez said.The trip was organized a grassroots group called the Florida Republican Assembly, which had originally envisioned four buses making the journey but settled for just two.As the Trump supporters boarded the buses, a lone woman, Danette Chialtas, shouted at them, calling them traitors for supporting Trump."He's being tried on espionage charges, and they are enabling it," Chialtas said, pointing to the buses.12:45 p.m. ETAuthorities are investigating after they say a suspicious package was found outside the federal courthouse where former president Donald Trump is scheduled to appear on Tuesday.At 10:28 a.m., the Miami Police Department responded to a call from Homeland Security about a suspicious object found near north Miami Avenue between 3rd and 4th streets. The federal courthouse is located at 400 North Miami Avenue.Crowds were moved away from the courthouse but have since been allowed to return to the area. Video below: White House won't weigh in on Trump indictment12:30 p.m. ETTrump will be digitally fingerprinted and have his birthdate and Social Security number taken as part of the booking process Tuesday at the federal courthouse in Miami, a spokesman for the U.S. Marshals Service says. The spokesman said the former president will forgo a mugshot because enough photos of him already exist in the system — confirming what a person familiar with negotiations around the proceedings said earlier. The spokesman said that booking could take place before Trump appears in court or afterward, depending on when he arrives. He said authorities did not plan to immediately alert the media once Trump had arrived.Video below: Why was Trump indicted and not Biden, Pence or Clinton? Outside the courthouse, meanwhile, police cleared an area where media covering the event had set up tents. They brought in sniffer dogs to search for anything suspicious but planned to allow journalists back into the area once the search was complete. 12:15 p.m. ETTrump is not expected to have a mugshot taken when he surrenders to authorities in federal court in Miami to face charges related to mishandling classified documents.That's according to a person familiar with negotiations surrounding the case who spoke on condition of anonymity in order to discuss the details of the proceedings.Having no picture taken is similar to Trump's recent appearance in court in New York on a separate case involving hush money payments, when the former president also avoided having his mug shot taken. Related stories:Trump prepares for court appearance as 1st ex-president to face federal criminal chargeHere's a look at the other investigations Trump is facing Trump allies cite Clinton email probe to attack classified records case. There are big differences Who is Waltine Nauta, the 2nd person named in Trump's federal indictment? PHOTOS: Where Donald Trump allegedly kept classified documents at Mar-a-Lago
MIAMI —
Former President Donald Trump pleaded not guilty to all 37 federal charges Tuesday afternoon after being arraigned for illegally hoarding classified documents at his Mar-a-Lago estate in Florida.
Warning: The live video above may contain graphic or offensive content. Viewer discretion is advised.
Trump is the first former president in U.S. history to face criminal charges by the federal government he once oversaw.
What to know:
Trump has pleaded not guilty to all 37 charges, according to CNN
A mugshot is not expected to be taken of Trump
Trump is expected to be digitally fingerprinted
Supporters and detractors of Trump are demonstrating outside the Miami courthouse
Live updates of the historic arraignment are below:
3:05 p.m. ET
CNN is reporting that former President Donald Trump has pleaded not guilty to all 37 charges.
2:50 p.m. ET
Former President Donald Trump has entered the courtroom before a Florida magistrate judge where he is expected to enter a plea to the 37 criminal charges he faces, CNN reports.
The booking process took about 10 minutes, during which his co-defendant, Walt Nauta, did have a mugshot taken, according to CNN.
Special counsel Jack Smith is attending the arraignment of former President Donald Trump in Miami, Florida.
2:30 p.m. ET
Trump rode to court with his son Eric, who accompanied the motorcade from the former president's Doral resort to the federal courthouse in Miami.
CNN aired footage of Trump walking to a line of SUVs with his son by his side while someone yelled, "Let's go Trump!"
The former president could be seen stopping and waving at supporters, as well as chatting with staff members. Eric Trump appeared to clap his father on the back just before he climbed into a vehicle.
Video below: Trump motorcade heads to Miami courtroom to face federal charges
As he rode to court, Trump posted on his social media site that the case against him was a "witch hunt."
Later, outside the courthouse Trump's lawyer Alina Habba said, "Today is not about President Donald J. Trump, who is defiant."
"It is not about the Republican Party, it is not about the 2024 election," Habba added. "It is about the destruction of longstanding principles that have set this country apart."

2:15 p.m. ET
Trump and an aide charged as a co-conspirator have been booked in Miami federal court.
That's according to the U.S. Marshals Service, which said Trump and Walt Nauta had been booked shortly after they arrived Tuesday afternoon.
Both men are expected to appear at the defense table shortly on charges that they wrongly held onto classified documents.
The two men were seen arriving at court together.
1:50 p.m. ET
Trump has arrived at the federal courthouse in Miami to formally surrender to authorities ahead of his court appearance on charges accusing him of illegally hoarding classified documents at his Mar-a-Lago estate in Florida.
Trump's motorcade arrived Tuesday afternoon at the courthouse shortly before he's scheduled to appear before a magistrate judge, a stunning moment in American history days after he became the first former president charged with federal crimes.
Video below: Trump motorcade heads to Miami courtroom to face federal charges
It's the second criminal case Trump is facing as he seeks to reclaim the White House in 2024. He's also accused in New York state court of falsifying business records related to hush-money payments made during the 2016 campaign.
Trump has denied any wrongdoing, saying he's being unfairly targeted by political opponents who want to hurt his campaign. After his court appearance, Trump will return to New Jersey, where he's expected to hold a press event to publicly respond to the charges.
1:30 p.m. ET
Donald Trump's motorcade is currently en route to the Miami federal courthouse from his residence in Doral, Florida.
1:15 p.m. ET
About four dozen Trump supporters dressed in red, white and blue clothing were bussed in to Miami from Orlando to show their support outside the federal courthouse where the former president would be appearing, the AP reports.
Some wore T-shirts that read "Donald Trump Did Nothing Wrong" and hats stenciled with "Because America Can Never Be Too Great."
"He has done so much for us. This what we can do for him. This is what we must do for him," said Laurie Pettengill, who drove halfway across the state from Homosassa Springs on Florida's Gulf Coast to go on the trip.
Video below: Other protesters outside Doral ahead of Trump arraignment
Miriam Ramirez carried a sign adorned with small American flags that said, "Puerto Republican Assembly Present for Trump!" She said the federal charges were a continuation of prosecutorial harassment that Trump has faced for years.
"This has been going on ever since he became president," Ramirez said.
The trip was organized a grassroots group called the Florida Republican Assembly, which had originally envisioned four buses making the journey but settled for just two.
As the Trump supporters boarded the buses, a lone woman, Danette Chialtas, shouted at them, calling them traitors for supporting Trump.
"He's being tried on espionage charges, and they are enabling it," Chialtas said, pointing to the buses.
12:45 p.m. ET
Authorities are investigating after they say a suspicious package was found outside the federal courthouse where former president Donald Trump is scheduled to appear on Tuesday.
At 10:28 a.m., the Miami Police Department responded to a call from Homeland Security about a suspicious object found near north Miami Avenue between 3rd and 4th streets. The federal courthouse is located at 400 North Miami Avenue.
Crowds were moved away from the courthouse but have since been allowed to return to the area.
Video below: White House won't weigh in on Trump indictment
12:30 p.m. ET
Trump will be digitally fingerprinted and have his birthdate and Social Security number taken as part of the booking process Tuesday at the federal courthouse in Miami, a spokesman for the U.S. Marshals Service says.
The spokesman said the former president will forgo a mugshot because enough photos of him already exist in the system — confirming what a person familiar with negotiations around the proceedings said earlier.
The spokesman said that booking could take place before Trump appears in court or afterward, depending on when he arrives. He said authorities did not plan to immediately alert the media once Trump had arrived.
Video below: Why was Trump indicted and not Biden, Pence or Clinton?
Outside the courthouse, meanwhile, police cleared an area where media covering the event had set up tents. They brought in sniffer dogs to search for anything suspicious but planned to allow journalists back into the area once the search was complete.
12:15 p.m. ET
Trump is not expected to have a mugshot taken when he surrenders to authorities in federal court in Miami to face charges related to mishandling classified documents.
That's according to a person familiar with negotiations surrounding the case who spoke on condition of anonymity in order to discuss the details of the proceedings.
Having no picture taken is similar to Trump's recent appearance in court in New York on a separate case involving hush money payments, when the former president also avoided having his mug shot taken.
Related stories:
https://www.wlwt.com/article/donald-trump-arraignment/44178162 Trump pleads not guilty to all charges