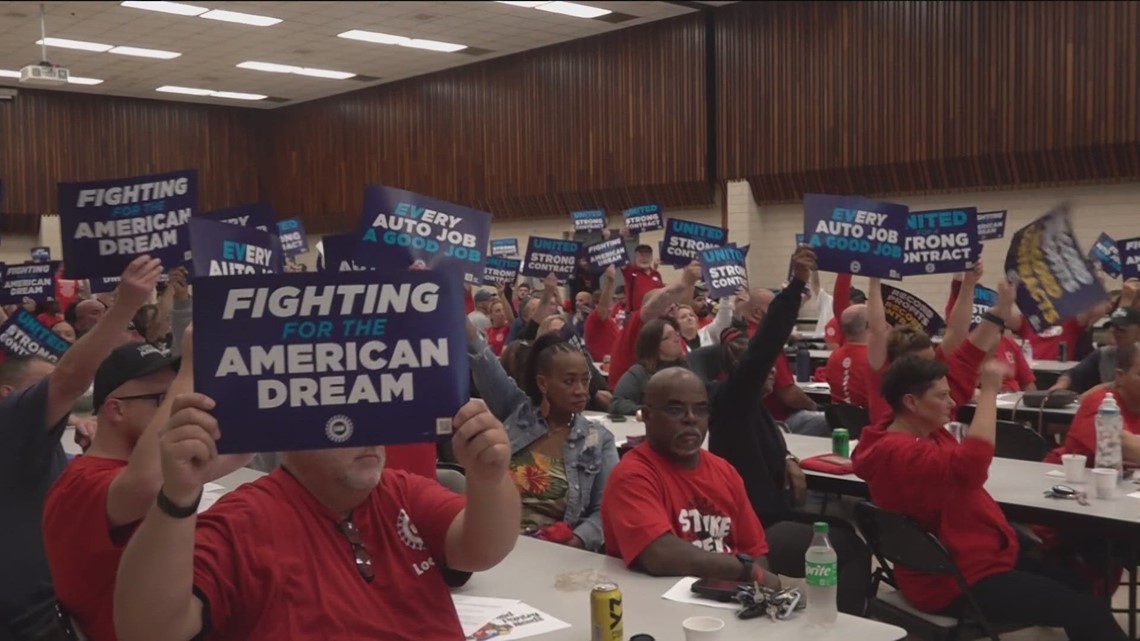 The union is utilizing a "stand up strike" method that hits the Big Three automakers unexpectedly, according to UAW President Shawn Fain.
TOLEDO, Ohio — Approximately 5,800 United Auto Workers at Stellantis' Toledo Assembly Complex began a strike at midnight after contract negotiations with the Big Three failed by the deadline one minute prior on Thursday.
Lines of cars began streaming out of the parking lot of the Toledo Jeep plant, which produces Jeep Wranglers and Gladiators, and honking their horns as union workers answered UAW President Shawn Fain's call to strike.
Workers from the Jeep plant began striking outside of multiple Big Three plants in Toledo, including the Jeep plant and a Chrysler plant on Hagman Road in north Toledo.
Fain announced in a Facebook Live Thursday night the union's intention to use a "stand up strike" method by strategically selecting plants to hit the Big Three.
"This strategy will keep the companies guessing," he said. "It will give our national negotiators maximum leverage and flexibility in bargaining. And if we need to go all out, we will. Everything is on the table."
The Ford Assembly Complex in Michigan and a General Motors plant in Missouri were two other plants in the U.S. that Fain called upon to strike immediately after the negotiations failed.
Fain also asked workers not called upon for the immediate strike to show their solidarity. These unionized workers will still work under the expired agreements unless they are called upon to strike, he said.
"We must show the companies you are ready to join the stand up strike at a moment's notice," he said. "And we must show the world that our fight is a righteous fight."
The UAW-Ford National Programs Center in Detroit — a focal point of the U.S. auto industry — will hold a mass rally at 4 p.m. Friday, Fain said.
Fain's full announcement, two hours before the strike began, can be watched here.
Stellantis, Ford and GM released statements Thursday night, minutes after Fain finished his announcement, saying they intend to continue bargaining.
Ford, in its statement, said a counterproposal submitted by the union at 8 p.m. Thursday "showed little movement from the union's initial demands" and would double labor costs that are already higher than foreign competitors that utilize non-unionized labor.
"They might strike certain facilities but if they call upon us, we're the money maker for Chrysler and Jeep Wrangler," Jonathan Hollingsworth, Jr., a team leader at the Toledo Assembly Complex said. "If they call on us, it's going to hurt. But we're going to do it because we deserve it."
For weeks the union and companies have been preparing for a strike, even as last-minute negotiations for new contracts have continued.
As of Wednesday evening, Fain said while the companies had increased their offers on wages, the union still believed the proposals were "inadequate."
The union initially demanded 40% pay raises, but in recent days had reduced that to calls for an increase of about 36%. By Wednesday, Ford had offered 20%, GM had offered 18% and Stellantis had offered 17.5%.
The union and automakers also remained apart on proposals about eliminating tiered wage systems, restoring traditional pension plans for new hires, the union proposal for a 32-hour work week and other issues.
Unions have been preparing their members for the strike. Last week, at a meeting of UAW Local 12 second-shift workers, leaders coached union members on what to expect during a strike.
In August, UAW members voted overwhelmingly to authorize a strike if a deal with the automakers couldn't be reached.
The expired contracts were signed in 2019.
https://www.wtol.com/article/news/local/uaw-strike-big-three-contract-deadline/512-ea847637-0037-44e3-b5a1-9de438352833 UAW workers, including at Toledo Jeep, striking against Big Three